Must-Do Zipline Trips for Tweens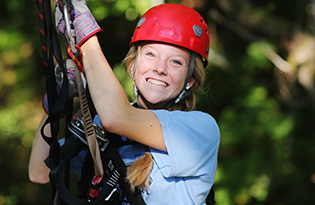 Summer fun, teenagers and family vacations don't always go together. As kids get older, they typically prefer time with friends to time with family. Planning an exciting getaway for a 13-year-old can be daunting. Why not try a little adventure this summer? Zip lining is becoming increasingly popular, with many new locations and canopy tours throughout the Carolinas. Add a little rock climbing, a movie and some pizza, and you've got a smile-producing getaway.
Navitat Canopy Adventures is only 20 miles north of Asheville. The tree-based experience includes more than 15 platforms, 10 zip lines, sky bridges, and a rappel or two. But don't be scared off by this seemingly over-the-top thrillseeker experience. In the hands of knowledgeable guides, we felt safe and secure as we soared 200 feet above a tree-lined gorge, enjoying the exhilaration of zipping from one platform to the next with our group of eight.
The tour lasts about 3½ hours with breathtaking treetop views and two guides to ensure your safety. But first you must stop in the office for paperwork, a weigh-in (must be 90-250 pounds) gearing up and an orientation. Then, you'll jump on "gators" for a quick ride to the first platform for a recap and training zip on one of the shorter (and lower) lines, before advancing to the longest, which is 1,100 feet.
The hardest part for me was stepping up on the stool, perched on the platform, to be safely reclipped to the next zip line. Next was a preoccupation with the hand-braking technique, fearing I would slam into a guide or the next tree. But even if I botched all that, the guides had safety ropes in place to save me from myself. There was never a moment during the afternoon when we didn't feel completely safe.
The adrenaline-filled experience had us laughing, joking and feeling like old pros at the end of the line, as we learned to do a short rappel, traversed the sky bridge (easy!) and hiked back to the office. It's clear why "USA Today" called Navitat canopy tour one of the best in the nation.
Asheville is a mecca for outdoor fun, but if rain drives you indoors, there's still plenty to do. When the rain started, we ducked into ClimbMax, an indoor climbing gym, where we put on harnesses and carabiners and attacked the vertical structures like we knew what we were doing. Fun Depot, with batting cages, laser tag and indoor go-kart tracks, is another great spot for nonstop indoor activity and silliness.
One night, we grabbed a pizza at Asheville Brewing Company, a funky dine-in movie theater voted WNC's Best Kid-friendly Restaurant. Young and old love the eccentric decor and the pizza, wings and burgers menu. Local craft beers please thrill-seeking parents grateful for a few minutes to relax. And if you like what's playing on the big screen, take your food inside and catch a flick for only $3.
If you're looking for a fun time with your tweens or teens, it's important to fully participate, not just be a spectator. Your kids will love seeing you try something new, and it teaches a good lesson. Though we all have our likes, dislikes, strengths and weaknesses, part of living life is getting out there and experiencing things firsthand —even if it is from 200 feet in the air.
CHECK THESE OUT
Navitat Canopy Adventures
Barnardsville • 828-626-3700
navitat.com
Asheville Brewing Company
Ashevillebrewing.com
ClimbMAX
Climbmaxnc.com
MORE ZIPLINE LOCATIONS
Hawksnest Zipline
Seven Devils • 800-822-4295
hawksnestzipline.com
Scream Time Zipline
Zionville • 828-898-5404
screamtimezipline.com
LOCAL ZIP LINES
Canaan Zipline Canopy Tour
Rock Hill, S.C. • 803-327-6932
canaanzipline.com
U.S. National Whitewater Center
704-391-3900
usnwc.org/canopy-tour