Music Therapy Hits a High Note for Children with Special Needs
Why music therapy works.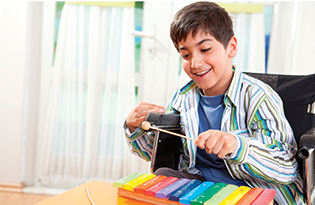 Like many children, Evan Galbato found it difficult to memorize prepositions. And, like most mothers, Lynn Wilcox-Galbato, was determined to find a solution for her son's problem.
Evan, 13, was born with cerebral palsy, and was already involved in music therapy, when he hit the preposition stumbling block. At his next music-therapy session, Wilcox-Galbato mentioned Evan's issue to his music therapist, Stacey Surratt, who came up with the idea of setting the words to music for Evan. "From there on out, he got 100 percent every time. It made a difference in how his brain was working," says Wilcox-Galbato says.
Wilcox-Galbato recognized early on the positive impact that music had on her son. "We played classical music to him in the NICU when he was first born," she says. This is one of the reasons Wilcox-Galbato chose to include music therapy among the services offered at her private, outpatient therapy center, Arise and Shine Therapy. The center also offers physical, occupational and speech therapy to children.
She vividly remembers Evan's first music therapy session with Surratt. "His whole demeanor changed. I watched his face and could see his joy was rising. He didn't even realize he was working so hard. He was in that zone where time just passes," she says.
SEE ALSO: The Power of Food for Children with Special Needs
Striking a Chord
Surratt, a board-certified music therapist, provides one-on-one and small-group music therapy services for children with special needs, as well as family support and education programming. Through her practice, Roots and Wings Music Therapy, she contracts with facilities and families in the Charlotte area, including Arise and Shine Therapy. She is also a clinical practicum supervisor in the on-campus music therapy clinic at Queens University of Charlotte, where therapy sessions are conducted by a student therapist under supervision of a board-certified music therapist.
"Music is one of the only stimuli that can be presented that activates the whole brain, which in turn strengthens neural connections and promotes learning and growth," says Surratt. In general, music therapy sessions for children with special needs begin with some sort of introductory transition or greeting song, then move through a specifically sequenced plan that may include active instrument play, singing, songwriting, movement and more. While participating in specifically designed music interventions that are challenging and fun, Surratt observes children progress toward functional goals.
Like helping Evan learn his prepositions, music therapy is a wonderful tool for learning. And because music is processed in both hemispheres of the brain, it can stimulate cognitive functioning. "Think about the ABC song," says Surratt. "I don't know any children who have achieved root memorization of the alphabet without it." Music therapists are uniquely trained to employ this same concept in order to create and tailor songs, rhythms, and even musical games that maximize progress toward a child's individual needs.
Children may also learn to play instruments as a way to strengthen fine motor skills or increase cognitive development. In addition, singing can be a way to support breath control and trunk support, or to develop speech skills such as articulation or fluency, says Surratt.
Much more than a learning tool, music therapy also benefits children on an emotional and physical level. "Music is considered a universal language; it provides a non-threatening setting and facilitates relationship building, learning, self-expression and communication," says Jane Maydian, a board-certified music therapist for more than 20 years who offers music therapy through her Greensboro-based business Allegro Music Therapy and Education Services.
By helping a child practice and discriminate between sounds, music therapy complements speech therapy. It also can help in the development of receptive and expressive language skills, says Maydian. "Music captures and helps maintain attention. It is highly motivating and engaging, and is a natural reinforcer for desired responses," she says. "It can enable those without language to communicate, participate and express themselves non-verbally."
SEE ALSO: 7 Habits of High Effective Parents of Children With Special Needs
Melodic Medicine
Who can benefit from music therapy? "My current client group includes children with cerebral palsy, autism spectrum disorders, Down syndrome, mitochondrial disease, epilepsy, and a variety of other physical, neurological and chromosomal diagnoses," says Surratt. Maydian offers her services to individuals with learning differences, physical and developmental delays, those with diagnoses along the autism spectrum, Alzheimer's disease and other age-related conditions, traumatic brain injury, and acute and chronic pain. Services are also available for neurotypical, and well children and adults.
"Overall, music is a connector on many levels. It brings people together to share in a common experience in a way that words cannot," says Surratt. "It activates the brain and helps forge pathways toward healing. It is experienced by the whole body, and motivates movement, socialization, communication, and more."
In addition each session or group can be tailored to suit individual needs of all ability levels. "Children might sing, play instruments, move to music or write songs," says Maydian.
Wilcox-Galbato has seen several goals met through Evan's involvement in music therapy. Recently, he performed in a talent show where he got to exhibit some of his musical skills by singing and playing the ukulele. "The bricks of therapy are physical, occupational and speech," says Wilcox-Galbato. "Music therapy is the mortar that holds it all together."
Eleanor-Scott Davis is the associate editor at Piedmont Parent magazine in the Triad area.

What Is Music Therapy?
The American Music Therapy Association defines music therapy as "the clinical and evidence-based use of music interventions to accomplish individualized goals within a therapeutic relationship by a credentialed professional who has completed an approved music therapy program."

Read more:


View all articles in the 2014-15 Exceptional Child Guide