Music Readiness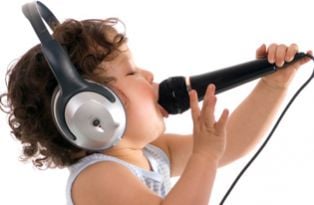 Children's experiences of singing, dancing, listening and exploring instruments from birth to age 7 shape their musical aptitude for the future. Just as important, experiencing music stimulates development in all areas of the brain. If programs are age appropriate and incorporate both learning and fun — involving activities that engage the language, movement, spatial, social and emotional areas of the brain — a lasting foundation will be set for future learning and enjoyment in music.
What's the best age for children to start lessons? This is an important question, because it is counter productive for them to start too young, as they can become frustrated and lose the motivation — and joy — that will keep them interested for a lifetime. If music lessons are fun, then endorphins are released in the brain that will help children to remember what they learn.
Here's a look at five music disciplines and a guideline for starting kids in lessons.
Piano
A good age to start piano is between 6 and 8 years old — about the time when many children are beginning to read. Kids are interested in reading music, have had the opportunity to develop a strong internal sense of rhythm and pitch, and have achieved sufficient maturity to practice regularly at home, in addition to one-on-one work with a teacher. By this age, children typically are able to easily master moving both hands at the same time, which is connected to increased spatial intelligence. In addition, on the piano, independent movement of the fingers is less intricate than with other instruments. Piano is the perfect first instrument for children. It is uniquely comprehensive. Young musicians study both bass and treble clef, and they learn both melody and harmony. With good teaching, a thorough foundation in music theory can be established that will serve children well as they purse other instruments later in their musical adventure.
Violin
The Suzuki method was designed for pre-readers as young as age 4, and family involvement is crucial. Parents attend lessons with their child and learn to guide their practice as home. Children are fitted with a violin that suits their arm length and will play a larger violin as they grow. Some violin teachers may segue into note reading and away from the prescribed Suzuki literature as students' interests and readiness dictate. Many students start violin, viola, cello or bass between the fourth and sixth grades in a school orchestra. This is wonderful opportunity to begin, as their learning will take place in the context of the full orchestra of sounds. Not only are they experiencing a richer musical environment, but also the immeasurable benefits of being part of a group that can feel like a "musical family" at that vulnerable preteen time of life.
Wind Instruments
Children should be at least 10 before starting to play wind instruments in order to physically handle them. French horns, clarinets, oboes and trombones don't come in smaller sizes like violins and guitars. Children's arms and fingers must be large and long enough to reach keys and cover holes in order to play. Also, the breath quantity and control needed to produce a tone requires physical maturity, coordination and patience. Most wind instruments are played as part of the school band, so students can get an immense boost of self-esteem. This camaraderie and feeling of being part of a group can help ensure a positive high school experience. Public schools don't begin band and orchestra now until the sixth grade, but there are many opportunities to begin young musician on lessons prior to joining the school band.
Guitar
Everyone can relate to the desire to connect with their inner guitar hero. A guitar is like a companion. Its quiet resonance is close to the body, and it is the most logical instrument for learning a great multitude of songs. Guitar is easy to pick up and enjoy by yourself, so it has great appeal to adolescents. Good guitar instruction begins around age 9, when children can isolate their fingers, have good finger strength and are able to focus on two different jobs simultaneously. Their hands must do the jobs of strumming and fretting. Children should be evaluated individually to ensure their fine motor skills are developed enough to play with relative ease. It is best to begin on an acoustic guitar, which helps to develop these skills better than an electric guitar.
Voice
Voice lessons, as opposed to short-term vocal coaching, involve serious weekly study of vocal technique assuming daily practice. Students should come to singing through joyful experiences, such as Kindermusik, school, church or community choirs, and family life. Good music education incorporates singing as a natural part of the learning process. Ideally, the change of voice in puberty should have passed by the time serious voice lessons commence. The health of the human voice is an issue unique to this instrument. Without the careful knowledge of an experienced teacher, it is vulnerable to actual injury if pushed inappropriately.