Movie Review: 'Ugly Dolls'
Dolls come in all shapes and sizes, and you don't have to be perfect to be loved.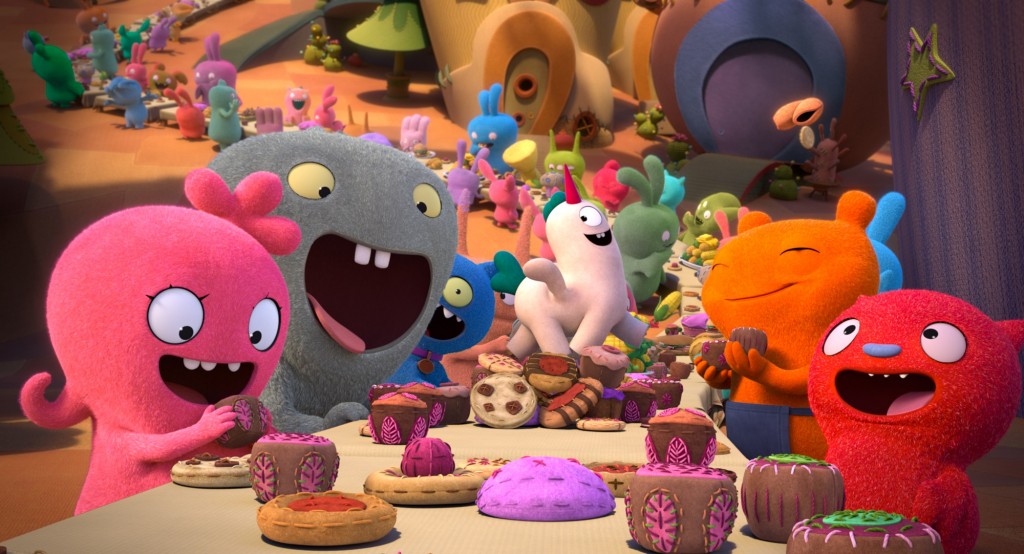 "Ugly Dolls" is a computer-animated musical comedy about a pink doll named Moxy who dreams of being treasured and loved by a child, in spite of her flaws. "Uglydolls" is a colorful and engaging family-friendly film that's perfect for all ages.
The Story
The film starts in a toy factory where dolls are manufactured. Any doll that does not meet quality standards goes down a conveyer belt into the land of Uglyville. A yellow doll named Wedgehead (Emma Roberts) falls into Uglyville and is greeted by their mayor, Ox (Blake Shelton). It appears the dolls don't know why they're there, or even that they've been rejected by the toy factory. The citizens cheerfully gather around to start the day, singing that life "Couldn't Be Better."
Uglyville is a shabby chic place. It's a colorful town where some dolls have only one eye, crooked teeth or a flower coming out of their head. Actually, they're kind of cute, and it's a happy town where dolls are friendly and kind to each other.
A pink doll named Moxy (Kelly Clarkson) dreams of being given to a child who will love and play with her. Moxy decides to venture into the Big World with the help of her friends Lucky Bat (Wang Leehom,) Ugly Dog (Armando Christian Pérez aka Pitbull), Wage (Wanda Sykes) and gentle giant Babo (Gabriel Iglesias). They go through a tunnel that takes them into a different world called the "Institute of Perfection." It turns out to be a training camp for dolls. Everyone wears school uniforms and looks alike. The dolls are trained to be perfect and ready to be adopted by children.
In Perfection, the Uglydolls don't get a warm welcome. The Uglydolls are considered repulsive and unattractive. Moxie and her friends are taken to Lou (Nick Jonas), a blond boy dressed in a tuxedo who turns out to be the director of the training camp. He mocks the UglyDolls and asks them to leave, insisting that no child would ever want them.
Moxy begs Lou for a chance to go through their training program. Lou allows the UglyDolls to stay in a rundown shed in preparation for an event called The Gauntlet, which involves tests that determine which dolls are eligible for the Big World and being adopted by children. Lou orders a Perfect doll named Mandy (Janelle Monae) escort the UglyDolls to their new home. Mandy is friendly, and shyly admits that she isn't quite perfect. Mandy secretly wears eyeglasses (and is unable to see clearly without them). Mandy assumes no child would want her knowing that her vision is flawed.
Training for The Gauntlet begins, but the UglyDolls think and act differently from the Perfects. Lou continuously torments them by sending them to the washing machine whenever they get dirty, insisting they would be inacceptable if they got dirty around children. Meanwhile, Lou sends three "Spy Dolls" — Kitty (Charli XCX), Tuesday (Bebe Rexha), and Lydia (Lizzo) — to go to Uglyville to kidnap Mayor Ox and bring him back to the Institute of Perfection. Comic complications abound as the Uglydolls and Perfect dolls compete for the Gauntlet.
What Parents Should Know
As you probably already guessed, "Uglydolls" is trying to show that people come in all shapes and sizes, and you don't have to be perfect to be loved. Beauty is in the eye of the beholder, and everyone deserves to be treated with kindness and respect, regardless of what they look like.
It's a very simple message and a good one for children. As a parent, I didn't see anything objectionable in this movie. I didn't pick up on any hidden agendas or political correctness. This movie is a good choice for preschoolers and children in elementary school. Middle schoolers also may enjoy this movie it for its colorful animation, creative characters, catchy music and entertaining plot.
I watched the movie with two 4-year-old twins, their mom and grandmother. I always like to review movies with children and get some feedback from them. As the end credits rolled on the screen, the twins shouted, "That was awesome!" Yes, they loved the movie and it held their attention to the very end.
The movie is a musical, so the characters often burst into song. The music is pop-contemporary, and I noticed a few times that the twins watching the movie with me got out of their seats and started dancing. If your children like sing-along videos then they probably will like this movie.
(Spoiler alert) I hesitate to even mention this, but there's a little bit of violence with a giant trash compactor in the doll manufacturing factory. There is a climax scene with the Uglydolls versus the Perfect dolls, and they're fighting and someone almost gets pushed into the spinning blades of the trash compactor, but no one is harmed. It turns out that the trash compactor was once used to shred the Uglydolls. Mayor Ox closed off the recycling chute and created Uglyville as a safe haven for them. The movie ends with Uglyville and Perfection being integrated, they name the new town Imperfection, and everyone becomes friends. As a mom, I love it when my children work out their differences and get along, and I thoroughly enjoyed this movie.