Movie Review: 'The Grinch'
Something magical happens when the Grinch tries to steal Christmas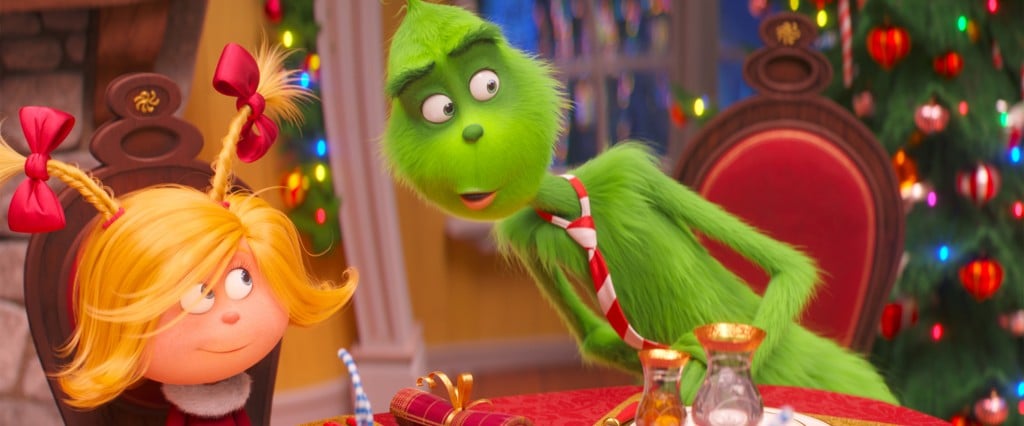 If you're a fan of Dr. Suess, then you'll be pleasantly surprised by this new Grinch film. It turns out to be a clever tale about friendship triumphing over isolation and material possessions. It's pretty much the classic story: Grinch schemes to ruin Christmas by disguising himself as Santa and stealing the local's Christmas gifts until a little girl named Cindy Lou turns the Grinch's world upside down, and helps him understand the real meaning of Christmas. It is a refreshing story about kindness, compassion, forgiveness, and gratitude.
This is the third screen adaptation of the beloved Dr. Suess story. It all started with the classic book, "How the Grinch Stole Christmas" (published in 1957) which was followed by the 1966 TV special (animated by Chuck Jones of Looney Tunes fame,) and then in 2000, there was the live-action feature film (starring Jim Carrey as the Grinch). The latest "Grinch" may be the best one yet, with gizmos and gadgetry, whimsical reindeer, a devoted dog and a closer look at Grinch's backstory.
The Story
The story begins in the town of Whoville that is brightly lit and decorated for the holidays. The Grinch (voiced by Benedict Cumberbatch) watches begrudgingly from his mountain cave mansion. Grinch doesn't have any friends, except for his dog Max, who he's trained to be a coffee barista. For breakfast, Max the dog serves the Grinch freshly brewed coffee and pastries using clever inventions and contraptions in the kitchen.
The Grinch is cynical and sarcastic about the holidays, and tends to be an emotional overeater. When Grinch runs out of food, he is forced to go grocery shopping in Whoville. At the Whoville supermarket, Grinch taunts children and is rude to other shoppers. He sneers at the carolers singing "God Rest Ye Merry Gentlemen."
On his way home from the supermarket, Grinch bumps into Cindy Lou (voiced by Cameron Seely) who is trying to mail a letter to Santa Claus. Cindy is asking Santa to help her mother, who is raising three children on her own and works long shifts to make ends meet. The Grinch sarcastically tells Cindy Lou that it would be wiser to give Santa her letter in person. That's when Cindy Lou comes up with an idea. She will talk to Santa as soon as he comes down her chimney. She will set a trap of homemade cookies, which will trigger an alarm that wakes her up so she can talk to him.
Meanwhile, the Grinch is determined to destroy Christmas. In a flashback, we discover that Grinch grew up in an orphanage, without any toys or Christmas gifts. Now, its payback time for the Grinch. He's going to dress up as Santa, and ride into town in a sleigh that's driven by a fat, lovable reindeer named Fred. The Grinch wants to visit every home in Whoville to steal their Christmas trees, ornaments and presents.
On Christmas Eve, Cindy Lou sets a cookie trap for Santa, so that she can wake up and share her wish for her mother. That night, the Grinch and Max rob the homes in Whoville, finally arriving at the last home, where Cindy Lou lives. However, something miraculous happens that brings about a change of heart and causes the Grinch to realize the true meaning of Christmas.
Appropriateness for Children
"The Grinch" is rated PG for brief rude humor and mild slapstick violence. He is a big green meanie, but it probably won't scare children watching the film. In one scene, he pelts a little boy with snowballs and pushes him off a ladder. Grinch also does strange things at the grocery store like opening a jar of pickles and spitting into it and then placing the contaminated jar back into unsuspecting customer's shopping cart.
In case you're wondering about sexual innuendo, there's a brief scene where Grinch wakes up in his "tidy whities" and another scene where a boy's clothes are accidentally snatched off leaving him with nothing but a strategically placed cookie for covering. (The boy and Cindy Lou are practicing how to trap Santa with a cookie trap when this happens).
Final Take
The Grinch" is a precious movie with lots of heart and laughter. I attended an advance screening with my family and heard children laughing throughout the movie. The young audience seemed to especially like Fred the reindeer, who helps Grinch drive his sleigh. Fred also has a loving reindeer wife and baby. There's a funny scene where Fred hops on the bed, trying to snuggle and stay warm on a chilly night with Grinch and Max. I also laughed when Grinch plays an instrumental version of the 70's song "All by Myself" (by Eric Carmen) on his pipe organ.
Overall, "The Grinch" is a wonderful film that suggests that greatest joy in life is to be kind and love one another. It's a story of joy and optimism winning out over grumpiness and cynicism. At the screening I attended, the children watching the film had the time of their lives. I heard squeals of delight from youngsters in the audience, as they giggled, cheered and even clapped their hands at the end.