Movie Review: 'Stan and Ollie'
Friendship prevails despite friction between these two longtime friends.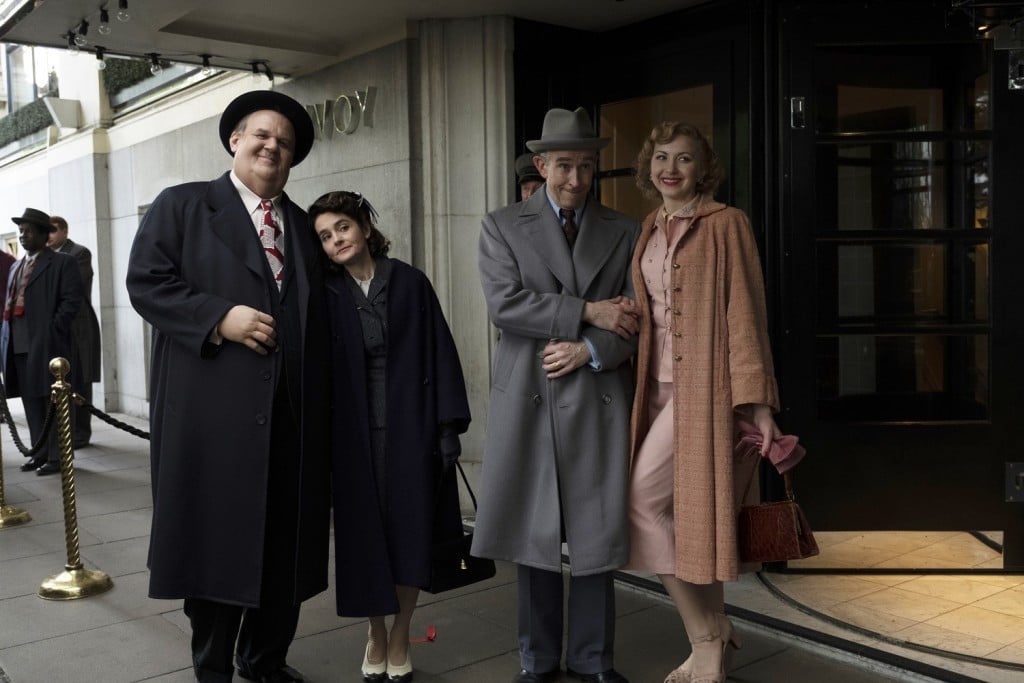 "Stan and Ollie" is a refreshingly gentle, low-key portrayal of the latter years of the world-famous comedy duo Stan Laurel (portrayed by Steve Coogan) and Oliver Hardy (John C. Reilly). The biographical film doesn't reveal anything overly messy, salacious or scandalous, but is a story of friendship that is tested by time and remains strong. This movie is upbeat, positive and entertaining.
The Story
The movie opens in 1937 with Stan and Ollie on set of "Way Out West" at the Hal Roach studios in Hollywood. There's some tension as Stan refuses to renew his contract due to low pay. In a meeting with the film producers, only Ollie is signed on by the studio, leaving Stan feeling betrayed and bitter. Cut to 15 years later (in 1953), open wounds and some unsettled feelings remain between the two friends. Even so, they attempt to make a comeback and recapture their old glory. They go on a vaudeville tour of Britain, Scotland and Ireland, with the help of a new, British manager, Bernard Delfont (Rufus Jones.) It's been years since their last studio picture, and they wonder if they still have what it takes. At one time, Stan and Ollie were the biggest names in Hollywood. Now they are in their 60s, and it's too late to do anything besides acting. Stan is having trouble getting hold of the London producer who promised to fund a comedy version of "Robin Hood." Stan and Ollie argue and say mean things to each other. With Ollie's failing health, they wonder if they can finish their tour.
---
Appropriateness for Children
"Stan and Ollie" includes slap-stick comedy, such as hitting each other with a rubber mallet, and pratfalls while Ollie has a broken leg and is in a cast in a hospital bed. There are petty arguments and mean-spirited banter with some light obscenities, but no crude or vulgar humor. There also are drinking and smoking scenes, although they are clearly in keeping with the time period of the film and largely un-sensationalized. Overall, this is a wholesome movie with a message of friendship and perseverance.
---
What's Good about "Stan and Ollie?"
It's been said that Stan Laurel and Oliver Hardy are the most successful comedic duo of the first half of the 20th century. This film is an excellent way to introduce your family to them. The movie includes some of the embarrassing aspects of their professional demise, but it is definitely worth seeing. What prevails in this story is the friendship between them, in spite of petty squabbles, health problems and Hollywood misgivings.
Watching actors Steve Coogan and John C. Reilly is like watching the real-life duo in action. The makeup, mannerism and moves are practically flawless. There are funny moments as the duo meticulously recreates their classic skits. They have an endearing friendship on and off-stage.
The movie shows the ups and downs of Hollywood. From the outside, it looks like the comic duo had fame and fortune. In reality, their lives were far from perfect. They got into fights behind the scenes, each was on his third marriage, and they may have been shortchanged by Hollywood producers and film studios. The conflict between main characters, however, leads to an emotional, uplifting payoff at the end. I always love a happy ending, and this movie does not disappoint.