Movie Review: 'Sherlock Gnomes'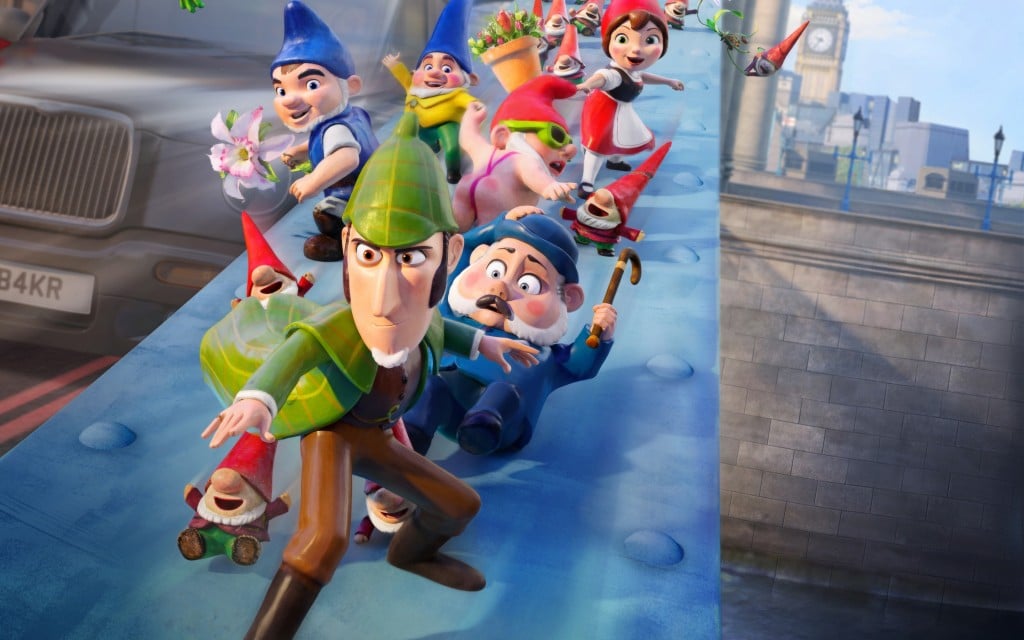 "Sherlock Gnomes" is the sequel to 2011's "Gnomeo and Juliet," the computer-animated children's film that was loosely based on Shakespeare's "Romeo and Juliet." In this new adventure, Sherlock Gnomes seeks to rescue gnomes that have mysteriously disappeared in London.
The story begins with the gnomes being unpacked from boxes and placed into the garden, which is their new home in London. Gnomeo (voiced by James McAvoy) and Juliet (Emily Blunt) want to transform their shabby garden into a lush paradise, with the help of their gnome friends.
One unfortunate day, while Gnomeo and Juliet are away from their garden, the rest of the gnomes are kidnapped. Gnomeo and Juliet return to an empty yard, just in time to meet Sherlock (Johnny Depp) and his assistant Watson (Chiwetel Ejiofor.) Sherlock tells them that all the gnomes have disappeared in London. Clues left behind suggest that Sherlock's old nemesis, Moriarty (Jamie Demetriou,) is to blame. Evidently, Moriarty is a "pie mascot" gone bad. He is the emblem for a pastry company and when he comes to life, Moriarty acts like a mean-spirited, yellow-colored, Pillsbury doughboy.
Gnomeo and Juliet have different ideas as to how the case should be solved. Juliet wants to take charge, pushes Gnomeo aside, and ignores his input. After all, they aren't just garden gnomes; they are family members. At the same time, Sherlock sees himself as the "sworn protector of London's garden gnomes" and acts condescending towards Watson. In spite of their egos, they must all work together to solve the mystery of the missing gnomes, and rescue them.
---
Appropriateness for Children
"Sherlock Gnomes" is best suited for ages 5 and older. The movie could have easily been rated G, but it ended up being rated PG for mild suggestive humor. There is a thong-wearing gnome named "Mankini" who likes to dance, twerk and fart in the mud. He's more silly than sexy, but probably isn't the best example for children. There's another gnome who sits on the toilet, and can't seem to get up. Overall, language in the film is mild, except for a few insult words and rude jokes.
As a subplot, Sherlock visits his ex-girlfriend, Irene (voiced by Mary J. Blige), who looks like a Barbie doll and moonlights as a pop singer. There's a scene where Irene puts on a red cape, jumps on stage, and belts out a song called "Stronger than I Ever Was." She dances around and insists that she will not be defeated, and has moved on after Sherlock broke up with her. What were the filmmakers thinking, to pitch the concept of being scorned by your ex, to children in elementary school? Perhaps the character of Irene is an attempt to make the film more appealing to teenagers.
In terms of violence and scariness, the film contains action-packed chases and life-or-death pursuits, including a stampede of rats. The villain, Moriarty, is a bully who gets an adrenaline rush from belittling others. He kidnaps the gnomes, holds them hostage, and intends to smash them to bits. The climax is a showdown at London's iconic Tower Bridge, where the villain threats to drown the characters in the Thames River. Without giving too much away, the villain meets his demise there. Meanwhile, the villain's henchmen are fire-breathing gargoyles who swoop down from the sky and capture gnomes like prey. These gargoyles might frighten sensitive children, although they are also depicted as goofy and playful at times. Overall, the movie has the same premise as Disney's "Toy Story" movies. The only time the gnomes and gargoyles come to life is when humans aren't watching.
---
Final Take
Remember the classic line: "It's elementary, my dear Watson?" It's true about this movie as well. "Sherlock Gnomes" is a wacky detective adventure that's fun for children in elementary school. The animation is well-done and visually appealing, with colorful characters and a spectacular 3D depiction of the London's iconic Tower Bridge. The architecture of the film depicts various landmarks in London, and almost makes you want to travel there and see London for yourself.
One of the best things about "Sherlock Gnomes" is the music, with remixed snippets of Elton John's tunes such as "Don't go breaking my heart," "I'm still standing," "Philadelphia Freedom" and other songs sprinkled throughout the movie. Evidently, Elton John worked on the film as a producer, and his music makes the film fresh, energetic and exciting.
The film has a positive message about not taking your friends and loved ones for granted. Juliet becomes so absorbed in the task of finding the gnomes that she neglects to pay attention to Gnomeo. In the same way, Sherlock is bossy and talks down to Watson, treating him like an assistant rather than a valuable part of the detective team. Ultimately, the characters realize that they shouldn't be so concerned with the task at hand that they overlook the people they love.