Movie Review: 'Secret Life of Pets 2'
It's funny what our pets do when we're not around.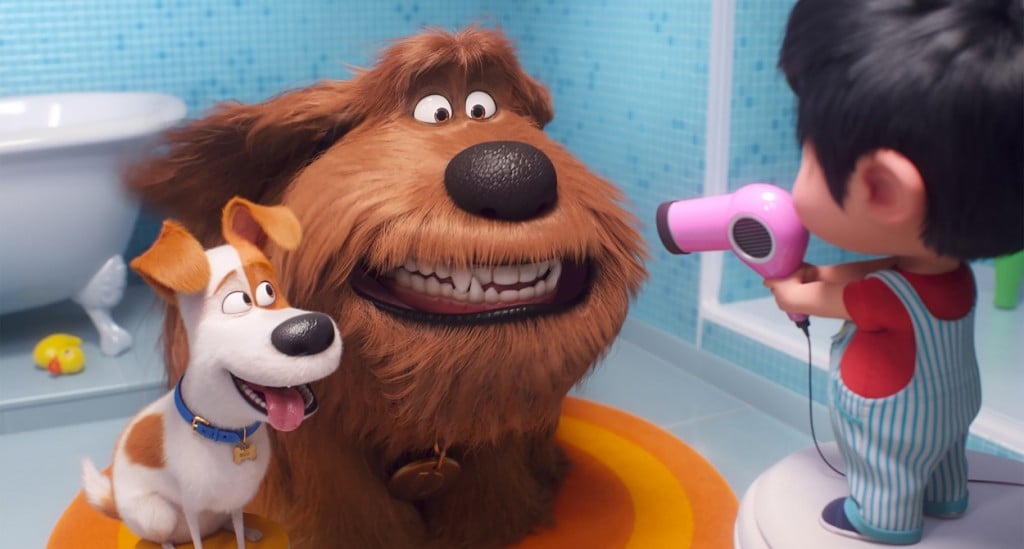 "Secret Life of Pets 2" is a 3D animated comedy about what pets do when their people are not around. The movie brings back Max, Duke, Gidget and Snowball, and we see how far they go to protect their family and friends. This new sequel has more cuteness and charm than the original movie, making this a better fit for younger children.
The Story
The story begins in a tiny apartment in New York City, with Max the Jack Russell Terrier (voiced by Patton Oswalt) and Duke (Eric Stonestreet,) a large shaggy brown Newfoundland mix. Since the first film, Max and Duke learned to get along and have become brothers.
Max and Duke's owner, Katie (Ellie Kemper) marries a man named Chuck (Pete Holmes) and they have a baby named Liam. The new baby tends to tease and terrorize Max, but over time Max grows to love Liam as a toddler. Now Max's new mission in life is to protect Liam from harm's way. Comically, Max's desire to protect Liam from all of life's potential dangers has turned him into a nervous wreck.
At home, Max asks his friend Gidget (Jenny Slate) the white Pomeranian, to take care of his beloved "Buzzy Bee" squeaky toy while he's away on vacation. The family packs up the car, and they go to visit a relative who lives on a farm. Max and Duke experience the countryside for the first time. For most dogs, the farm is a place of exciting new smells and discoveries. Max is scared and uneasy because he is unfamiliar with his new environment.
Back home in New York, a no-nonsense Shih Tzu named Daisy (Tiffany Haddish) asks Snowball the bunny (Kevin Hart) to help rescue a tiger cub from the clutches of an evil circus master (Nick Kroll). At the same time, Gidget must retrieve Max's favorite squeaky toy after it accidentally bounces into a crazy cat lady's apartment downstairs.
What Parents Should Know
"Secret Life of Pets 2" is much gentler and softer than it's original, which makes it a good choice for preschool and elementary schoolers. Gone are the life-and-death situations of the previous film, with cars sinking underwater and pets trapped inside, dodging Animal Control officers, facing off against an enormous viper snake and other predators, plus the disturbing comments from animals talking about killing people. This plot is tender-hearted and serene.
Of course, there is some slapstick violence and it's meant to be funny. Animals hit each other and throw knives, and the villain is hit by a car driven by the crazy cat lady. There is some potty humor about dogs pooping in shoes, and there's a cat who is high on catnip.
As a subplot, an evil circus owner speaks in a Russian voice and threatens to whip and taser his white tiger. He leads a pack of ferocious black wolves who chase after the pets in an attempt to get back his circus tiger. The villain may frighten young children, but the scenes with him are very brief and pass quickly. As you probably already guessed, justice is eventually served, and the evil circus owner doesn't get away with abusing the tiger for very long.
I watched the movie with two 4-year-old twins, their mom and grandmother. I always like to review movies with children and get some feedback from them. The twins especially liked the antics of the talking animals and giggled at the funny parts. They didn't appear to be phased by the movie's villain except to point out that "he's a very bad man" and "why can't he be nice to the animals?" Overall, the twins liked the movie and it held their attention to the end.
Final Take
As much as I liked this movie, the plot falls short in a few areas and there isn't much conflict. To it's credit, this makes the movie better suited for younger children. Plus, the story is wrapped up very quickly at the end.
It was fun to see the familiar characters back from the original film and how they are kind and gentle to each other. It's also good to see "Pops" (Dana Carvey) the elderly basset hound with orthopedic wheels in place of his amputated back legs. (Thumbs up to the filmmakers for this positive portrayal of a handicapped animal). This time Pops runs a Doggie Disobedience School, with wide-eyed puppies as his students: Tiny, Princess, Mimi, George and Pickles. They are cute and cuddly, and I loved and seeing an older dog sharing what he knows with his younger students. I also liked the new character Rooster, the farm dog (Harrison Ford,) and how he mentors Max with confidence, farm smarts and quiet heroism. Overall, the film's message is bravery, mentorship and looking out for others.