Movie Review: 'Second Act'
J-Lo uses street smarts to re-invent herself in the workplace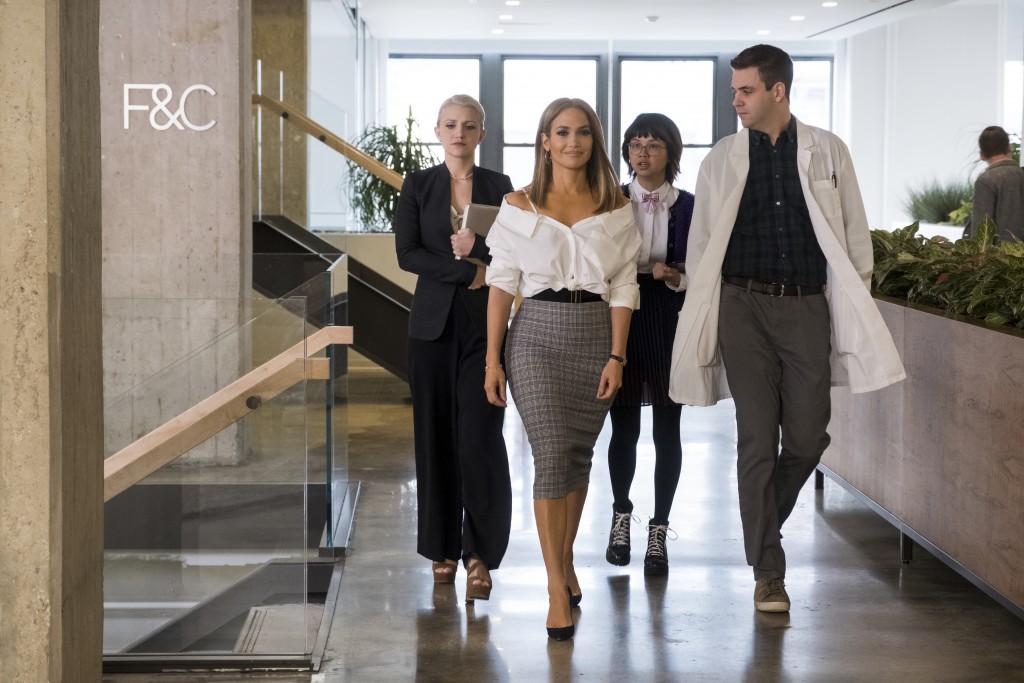 "Second Act" is a comedy about a 43-year-old woman who uses a fake resume to get a dream job. The movie aims to show the value of street smarts and female friendship, but conservative moviegoers will cringe at the Hollywood values presented in the film.
The story begins with Maya (Jennifer Lopez) working at Value Shop, a supermarket / discount store that resembles Walmart. Everyday, Maya puts on her smock and name tag, and handles the store's business with a firm and friendly hand. She's been working for Value Shop for 15 years now, the past six years as Assistant Manager, but now Maya has been passed up for a promotion. Instead of Maya, Value Shop hired a college graduate (Dan Bucatinsky) with an MBA. Maya has a good track record as an employee, but doesn't have any education beyond high school. In fact, Maya dropped out at age 16 to have a baby, and finally got her GED and job at Value Shop. Not having a college education causes Maya to be passed over for promotion, and now she resents her new boss.
At home, Maya's live-in boyfriend Trey (Milo Ventmiglia) and best friend Joan (Leah Remini) try to encourage Maya, but she is frustrated as street smarts don't equal book smarts. Maya wonders if she is doomed for her past mistakes, and if she will ever accomplish something with her life.
Meanwhile, Joan's son Dilly (Dalton Harrod) is a computer whiz who is soon going to Stanford University. Dilly fixes up Maya's resume and mails it to Franklin and Clarke, a prestigious cosmetics company. Maya is called in for an interview, and meets CEO Anderson Clarke (Treat Williams). He is impressed with her resume, which includes Harvard, Wharton, serving with the Peace Corps, and speaking Mandarin. Maya is caught off-guard, but plays along with it. Mr. Clarke is interested in having Maya consult for them and introduces Maya to his daughter Zoe (Vanessa Hudgens).
Maya is hired for the consulting job, but hesitates. Joan reminds Maya that she got the interview on a lie but got hired because of herself. Boyfriend Trey is concerned about Maya accepting the job under false pretenses. Trey wants to have children, but Maya just isn't ready to start a family.
Maya starts her job at Franklin and Clarke, yet is uneasy about the deception. On her first day on the job, the company pits Maya against Zoe in a big product development competition. It's Team Maya versus Team Zoe as to who can create a profitable skincare line in seven days. Team Zoe sets out to repackage and redesign their existing product line, whereas Team Maya sets out to create a new product line from scratch.
Final take
I watched "Second Act" with three of my closest girlfriends and my mom. It was a fun "ladies night out" and I liked the female camaraderie that's depicted in the movie. The film shows the value of friendship, and how caring friends can help you through the toughest times. The movie also offers a positive portrayal of adoption, and the plot has some unexpected twists and surprises that left me wondering what would happen next.
However, I was relieved that my teenage sons were not with me watching this movie. There's an racy scene in which Jennifer Lopez takes a shower, and her fully-clothed boyfriend jumps into the stall with her, and kisses her passionately. Another concern is the film's foul language, sexual innuendo, and the ladies talk about sexual fetishes. Jennifer Lopez wears outlandish and inappropriate outfits, but no one seems to bat an eye. One of them is a white oversized work shirt pulled back to reveal her bare shoulders, and shoulder straps. She looks like she left the house half-dressed. Or maybe she put on her boyfriend's shirt, because she didn't have anything else to wear. Maya also attends a company party, on a cold winter night, in a dress that resembles a swimsuit with a wrap-around skirt. Her boss dances with her, acting as if what she's wearing is nothing out of the ordinary.
The movie also puts a romantic spin on out-of-wedlock pregnancy, living together, and lying about work credentials. Common Sense Media sums it up: "While it would seem like the moral of the story should be "don't lie," all of Maya's dreams do eventually come true as a result of the fibs, which could imply to kids that lying is a winning strategy."
As much as I wanted to like "Second Act," it's Hollywood values made me cringe. The story is reminiscent of "Maid In Manhattan" (2002) in which Jennifer Lopez plays a working-class girl who is entangled in a mistaken identity fiasco due to a makeover and half-truths told by her misguided, well-meaning friends.