Movie Review: 'Paddington 2'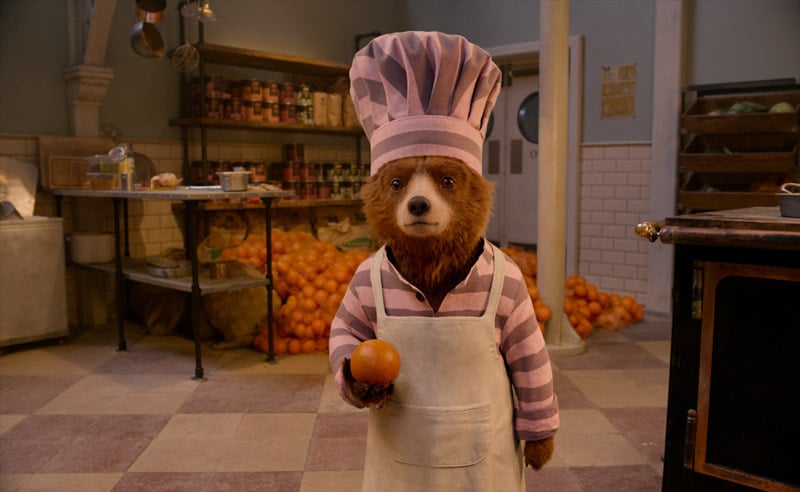 "Paddington 2" is a clever film about a young immigrant bear who travels to London and fits in perfectly with a human family. This sequel, based on the classic children's book by Michael Bond, is a kid-friendly movie that offers a message about kindness and compassion, working together as a family to overcome obstacles.
I attended an advance screening of "Paddington" with a 5-year-old girl in kindergarten, her mom and grandmother. We very much enjoyed this film about a pint-sized bear that looks for the best in everyone. As Paddington says, "If we're kind and polite, the world will be right." Of course, the movie is not all cuddles and cuteness. Things go horribly wrong for Paddington, when he is falsely accused of stealing and ends up in prison. Ultimately, justice prevails and almost everyone is won over by the bear's good manners and charm. Paddington experiences lots of mishaps (spills, falls, almost drowning, being chased by a villain), but the antics are more slapstick than scary. Overall, this is a good film for ages 4 and up.
The story begins with Paddington bear (voiced by Ben Whishaw) living with the Brown family: Dad Henry (Hugh Bonneville), Mom Mary (Sally Hawkins), and teens Judy (Madeleine Harris) and Jonathan (Samuel Joslin), as well as their housekeeper, Mrs. Bird (Julie Walters.)
At Mr. Gruber's antique shop, Paddington discovers an expensive pop-up book about London that he wants to buy for his Aunt Lucy's 100th birthday. In order to save enough money for the book, Paddington washes windows and helps out at a barber shop. Just as Paddington is ready to purchase the book, a mysterious thief breaks into the antique shop and steals it. Somehow, Paddington ends up wrongfully accused and is sent to prison.
Without giving too much away, the real thief turns out to be the Brown's narcissistic neighbor, Phoenix Buchanan (played by Hugh Grant,) who is a washed-up actor, desperate for money and fame. To make ends meet, Buchanan does dog food commercials and runs a one-man carnival show. A master of disguises, Buchanan deceives everyone around him, including authorities. He steals the pop-up book, thinking it will be his map to riches.
The Brown family must figure out how to prove Paddington's innocence while he tries to make the best of being incarcerated. Behind bars, Paddington befriends Knuckles the cook (played by Brendan Gleeson.) Paddington helps Knuckles overhaul the prison menu and teaches him to make orange marmalade and pastries. While the Brown family seeks justice for Paddington, the real thief, Buchanan, begins using the pop-up book to locate a series of clues within London's famous landmarks, which he hopes will unveil the location of a secret treasure.
Appropriateness for children
"Paddington 2" is rated PG for some action and mild rude humor. Overall, it is fairly clean and could have easily have been rated G. If you have young children, you might talk to them about some of the dangerous situations and circumstances portrayed in the film, and how it isn't always wise to imitate Paddington. Yes, he's a polite bear, but he often lacks common sense. There's a scene where Paddington grooms himself by shoving two electric toothbrushes in his ears and then up his nose. He also drinks hot tea straight from the teapot spout. Of course, most children will recognize the humor in this and probably wouldn't attempt it themselves.
A family friend does a magic trick and pulls a coin from Paddington's ear. The bear then shoves the coin inside his ear and stores it there. There's also a scene where Paddington is mistaken for the barber and gives an unsuspecting customer a disastrous haircut. These slapstick moments are all in jest, but obviously something you wouldn't want children to imitate.
As a heads up, the villain breaks a window in order to steal from the antique store. After a high-speed chase, Paddington is framed and arrested for the crime. The police place him in handcuffs and into the back seat of a police car. Once imprisoned, the enormity of the situation settles on the falsely accused Paddington. He requests a bedtime story in his jail cell and begins crying when it's denied.
Several prison inmates come across as mean-spirited, and one snarls, "How would you like to be buried in a very deep hole?" Everyone is afraid of Knuckles the prison cook, who initially threatens to make a meat pie out of Paddington.
The movie's villain is jealous of a circus performer. He sabotages a rope by cutting it slightly so that, when used by the performer, it snaps and they fall to their death. We see them hit the ground with a thud and the someone says that they went from their performance name of the "flying swan" to a "dying swan."
Slight sexual innuendo occurs with a joke about "nice buns" – something a character says about pastries is later used to describe the villain's rear end. The villain responds with. "Thanks, there have never been any complaints about Mr. and Mrs. Body Cheek."
When Paddington is imprisoned, he is expecting a visit from the Brown family. The other inmates warn that he will be forgotten and in the commotion that follows, the Browns don't show up for the visit. It is sad when Paddington feels abandoned.
There is a prison escape and a promise is made to help Paddington reunite with his family. However, once they are out of prison, this promise is broken, and Paddington is very upset. Paddington leaves a voicemail message to the Browns, saying that he is now on his own and it is clear he has given up. However, shortly after the call, the situation turns around.
Toward the end of the film, Paddington is trapped in a vehicle that is sinking underwater. Someone dives under to free him, but due to a padlock neither can open the door. This sequence is undercut with sad music and slow-motion shots. There is a moment where both characters look at each other and silently acknowledge that nothing can be done. This is a very emotional moment that eventually breaks as new circumstances come into play.
Final take
"Paddington 2" is a suspenseful and funny film that will entertain children and adults alike. It's a good follow-up sequel to the original film, and perhaps a better fit for younger kids (as the villain is significantly less menacing than Nicole Kidman's terrifying taxidermist in the original).
My favorite thing about the film is sequences where Paddington opens the pop-up book and the pages come to life. Inside the book, Paddington takes his aunt on a tour of London's greatest landmarks, including Tower Bridge, St Paul's Cathedral and the Serpentine in Hyde Park, while returning to Chalcot Crescent, which stands in for Windsor Gardens and Portobello Road, where Mr. Gruber's antique shop stands.
The cinematography transitions from flat, two-dimensional drawing into a three-dimensional world as Paddington moves through time and space. The design is handcrafted with painterly illustration, revealing the emotion of the bear and his love for the people and places of London. At the screening I attended, the audience was so moved by the ending of the film that they burst into applause. Paddington was accused of being a criminal, but the only thing he manages to steal is your heart.