Movie Review: 'Frozen 2'
Queen Elsa and Princess Anna venture into the enchanted forest in hopes of uncovering a buried truth about the past.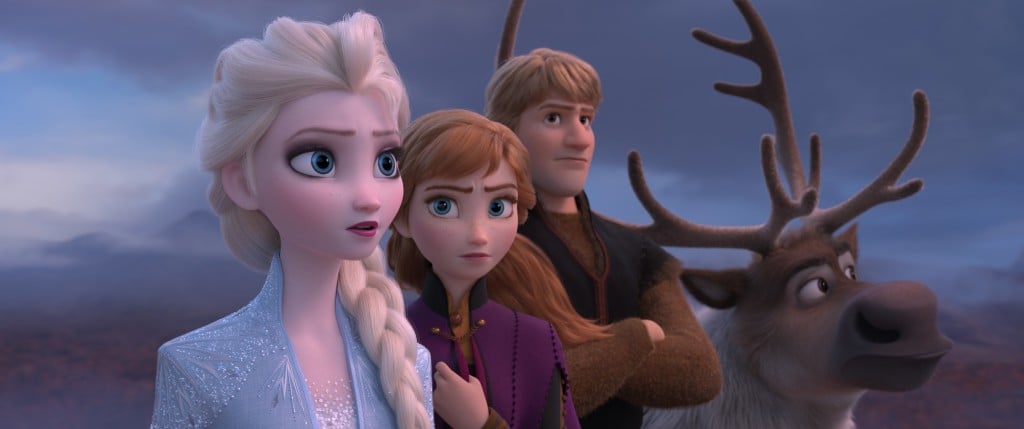 "Frozen 2" brings back Elsa, Anna, Kristoff, Olaf the snowman and Sven the reindeer—from the snow-capped city of Arendelle in Norway. It's a mythical fairytale about the bond between two sisters, and how their friendship is tested and strengthened. The characters embark on a dangerous journey to the enchanted forest, where they search for the source of Elsa's magical powers. Overall, "Frozen 2" is suspenseful and entertaining, but some aspects of the movie may frighten sensitive children.
The Story
"Frozen 2" begins where the original story left off. Anna (Kristen Bell) and Elsa (Idina Menzel) are living happily in the royal palace of Arendelle with open gates. As you may recall, Elsa was crowned the Queen of Arendelle, after her parents shipwrecked at sea. A handsome young man named Kristoff (Jonathan Groff) helps Anna find her sister Elsa when she runs away from home. Eventually, Anna and Kristoff fall in love.
The movie flashes back to a childhood incident that serves as the backstory. Young Anna and Elsa are playing outside, in an imaginary enchanted forest. Their father and mother, King Agnarr (Alfred Molina) and Queen Iduna (Evan Rachel Wood,) are there too. King Agnarr tells his girls that he visited an enchanted forest when he was a boy. He explains that he accompanied his father, King Runeard, and the Arendellian tribes to celebrate the grand opening of the newly built dam that his tribe had built for Northuldra. The dam was supposedly a bridge of peace and trust between the two groups of people. King Runeard explained that everything was fine until he heard a mysterious singing voice, calling him deeper into the enchanted forest. Just as he was enjoying the serenity of the forest and the beautiful singing voice, luring him deeper into the thicket, a fight broke out. The Arendellians and Nothuldrians attacked each other. King Agnarr suddenly lost consciousness and woke up safely outside the enchanted forest. He mentioned that he didn't know who rescued him, but the forest was closed off from the rest of the world with a heavy mist. King Agnarr said that the four spirits of the forest (earth, air, fire and water) did this because they were angry about the tribes fighting. Unfortunately, King Runeard, the Arendellian soldiers, and the Norhuldrians were trapped in the forest. King Agnarr says that one day the enchanted forest may call upon them again.
Flash forward to the present, Anna and Elsa are now adults. Their parents have passed away, and they have moved on with their lives. Kristoff is smitten with Anna, and wants to marry her, but he can't seem to find the right opportunity to propose. Meanwhile, Elsa begins hearing a mysterious singing voice that calls her into the night. She is the only one who can hear the voice. Elsa remembers the story her father told her about this as a young girl. She tries to block the singing voice, but it won't stop. The singing voice shows her pieces of the past. It promises answers about why she is the way she is. Elsa wants to unravel the mystery of the singing voice.
Of course, Elsa has a magical gift. It's the power to create ice and snow. She's learned how to control her magic, and only recently revealed her powers to her kingdom, after years of keeping them hidden for fear she'd be persecuted for her differences. Elsa is grateful her kingdom accepts her and works hard to be a good queen. Deep down inside, she wonders why she was born with magical powers (while her sister Anna has none.) The mystery leads to a journey to uncover a buried truth about the past. Elsa ventures deep into an uncharted and mysterious land, where her powers will be tested to their limits. Along the journey, she will discover the life she was meant to live, but in so doing, risks losing everything.
As Elsa journeys into the enchanted forests and dark seas beyond Arendelle, her sister Anna is determined to go with her, to be by her side, and help uncover the mystery—along with Kristoff, Olaf the snowman and Sven the reindeer. In "Frozen," Elsa feared her powers were too much for the world. In "Frozen 2," she must hope they are enough.
What Parents Should Know
"Frozen 2" is beautifully crafted, with lavish costumes and snowy landscapes, but the plot is complicated. It will be difficult for children (even adults) to make sense of this story. I watched the movie with my mom, and even she was having trouble following the story as it unfolded on the screen.
It's a complicated story, and parts of it are very dark, with scenes which may frighten sensitive children. In the beginning of the film, we discover that Anna and Elsa's parents died in a shipwreck. (Actually, their passing happened in the previous movie, but it's referred to in this sequel through flashbacks) This aspect of the story is somewhat morbid and disturbing, although the movie implies the girls get on with their lives without any problems.
The characters visit dark and scary places, including a mysterious enchanted forest, a black-sand beach and dark sea, and a paralyzing cavern. There are several intense scenes of elemental "spirits" chasing and attacking people with wind, water, fire, and air. There are rocks and trees that appear to be sleeping giants—which eventually wake up and come to life. It will be unsettling for some children to watch the sleeping giants waking up, walking like humans, and then chasing people. There are also life and death situations with chases and battle scenes with swords. Some characters die. As a parent, I felt like some of movie's topics aren't very kid-friendly, such as the magic, spiritism, death of parents, scenes of abandonment, betrayal and despair; plus hearing voices and following them. However, there are positive messages about sisterhood, doing the right thing, family values and friendship.