Movie Review: 'Dog Days'
A story about how dogs are faithful and loving companions, even when they make messes or get into trouble like our pets sometimes do.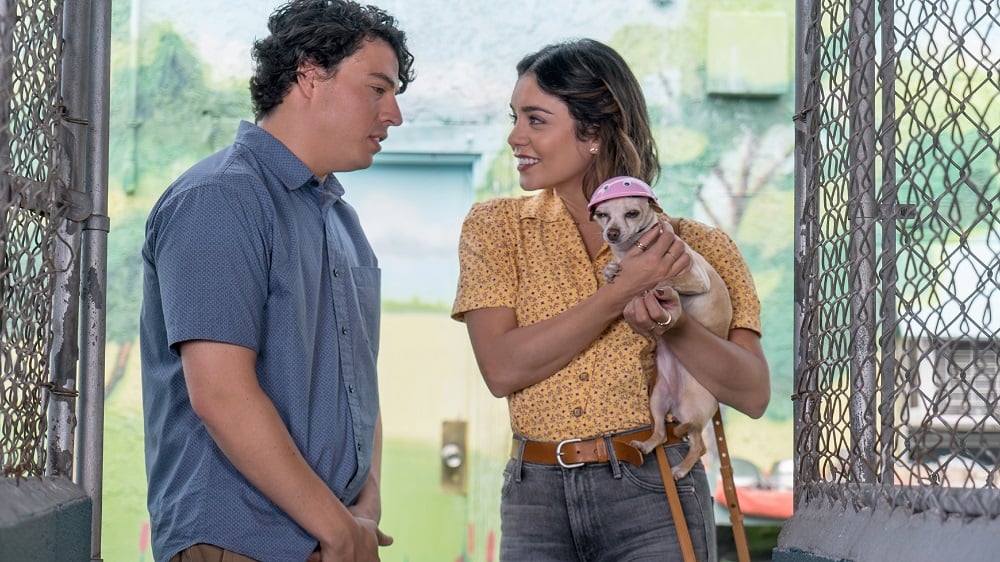 "Dog Days" tells six different stories about people and their dogs coming together in funny and unexpectant ways. The movie's characters include a TV broadcaster, a pro-athlete, a dog walker, a business owner, a coffee shop barista, a retired college professor, a married couple expecting twins, and another couple adopting a child. What these stories have in common is that the characters dislike each other initially, but as the story progresses, having a dog helps them to connect, show vulnerability, and trust again after they've been hurt, abandoned or just need a friend.
Liz Daniels (Nina Dobrev) is the anchor for the LA News morning talk show. She enjoys interviewing guests like canine psychologist Danielle (Tig Notaro.) After work, Liz discovers her boyfriend has been cheating on her. The stress causes Liz to have a nervous breakdown on the air, while interviewing a handsome pro-football player named Jimmy Johns (Tone Bell.) Afterwards, Liz apologizes to her producer, who says this is the most views they've ever gotten. Since Liz and Jimmy have great chemistry, he is going to be her new co-host.
Tara (Vanessa Hudgens) is a spunky barista who dreams of a life beyond the coffee shop. Tara finds a stray Chihuahua, whom she names Gertrude, after her favorite writer Gertrude Stein. The vet determines that Gertrude has a soft spot on her head, and something as light as a pinecone could put a hole in her skull. So Tara puts a pink helmet on the dog, and adorns her with sparkly necklaces and tiaras.
Meanwhile, Garret (John Bass) visits the coffee shop, and falls all over himself trying to get Tara's attention. Garret runs a dog rescue where Tara decides to volunteer. Things are going well until Garrett discovers that he has to move his dog rescue, because his landlord sold the building without telling him. Now he's worried he won't be able to find another building which he can afford. Tara helps Garrett plan a fundraiser, so that he'll have enough money for a new dog shelter.
Tara's friend Daisy (Lauren Lapkus) is a professional dog walker. She has a crush on a handsome veterinarian named Mike (Michael Cassidy) but the other women in town are swooning over him too.
Greg (Thomas Lennon) and his wife Ruthie (Jessica St. Clair) are expecting twins. Their baby shower is fiasco when their sheepdog mangles the baby gifts. Things go from bad to worse when Ruthie's brother Dax (Adam Pally) doesn't show up for the baby shower. He was supposed to be the party's music entertainment (with his band "Fronk") but he proves to be selfish and unreliable. When the Ruthie goes into labor, Dax becomes the dog sitter.
Walter (Ron Cephas Jones) is a retired college professor with a pug named Mabel. When Mabel goes missing, a 17-year-old pizza delivery boy, Tyler (Finn Wolfhard,) offers to help Walter find his dog. It turns out that Walter and Tyler have a lot in common. Tyler's dad passed away when he was 12 years old, and Walter's wife has also passed away. Walter offers to tutor Tyler, as he struggles to understand Homer's "The Odyssey" for school.
Meanwhile, Walter's dog Mabel is taken in by Grace (Eva Longoria) and Kurt Chapman (Rob Corddry.) The Chapmans have adopted a 4-year-old girl named Amelia (Elizabeth Caro.) She is shy and withdrawn, but everything changes when Amelia meets the Mabel pug, whom she re-names "Mister Snuggles."
Is it any Good?
If you're a dog lover, you'll probably like this movie. The plot leads up to Tara and Garrett's fundraiser for his new dog shelter. All of the characters come together, not knowing each other's backstory, but realizing that this new dog shelter is for the greater good of the community.
What I liked about "Dog Days" is that it shares some important life lessons. Being a dog owner requires discipline, responsibility and patience. That's something that Ruthie and Greg learn once they become parents. They ask Dax to dog-sit their mutt, Charlie, which proves to be a challenge since his apartment building doesn't allow dogs.
The movie reminds us that dogs are not just cuddly playthings. They have distinct personalities, emotions and intelligence. Sometimes they require extra care, such as Gertrude the Chihuahua, who wears a pink helmet to protect her head. When Jimmy's pitbull gets sick, he has to make some difficult decisions at the vet. Dax learns that dogs need to tinkle first thing in the morning, so now he can no longer sleep late.
The movie shows that a dog is a companion who cannot be easily replaced. Walter's dog keeps him company after his wife passes away. This same dog helps Amelia overcome shyness. Liz's dog Sam gives her the courage to trust again, after breaking up with her boyfriend.
Appropriateness for Children
I attended this movie with a 6-year-old girl, her mother and grandmother. We quickly realized this is not a children's film. There are no talking dogs or no silly pet tricks to amuse elementary schoolers. The 6-year-old girl (who watched the film with us) was bored and wanted to go home.
The movie emphasizes motherhood and family, but it's mature subject matter and romantic underpinnings make it more appropriate for teenagers and adults.
There isn't much objectionable content in this movie, except for a dog who accidentally eats brownies laced with marijuana, which makes him high. The rest of the movie is fairly tame. Some of the characters fall in love, and there's some kissing.
The 6-year-old's mother (who watched the film with me) said this was the perfect film to watch once the children are in bed. "If I had this movie on DVD, I'd watch it over and over again, until I had all the lines memorized," she said.
Interestingly, this mom has worked as a veterinary assistant, and pointed out something that most moviegoers (and even critics) will overlook. Remember Gertrude, the chihuahua who wore a pink helmet? My friend says that the movie vet's diagnosis of Gertrude was wrong. Evidently, all Chihuahuas​ have soft spots on their heads, and that they really don't need to wear helmets. Something as innocent as a pinecone will not poke holes in the dog's skull, or hinder them in any way.
To its credit, "Dog Days" depicts dogs as faithful and loving companions, even when they make messes or get into trouble like our pets sometimes do. If you're a dog lover, this sensitive and kind-hearted movie will put a smile on your face and leave you with a happy feeling. A dog will always be man's best friend.