Movie Review: 'Angry Birds 2'
Angry Birds and Green Pigs set aside their differences and work together to stop a villain from destroying their islands.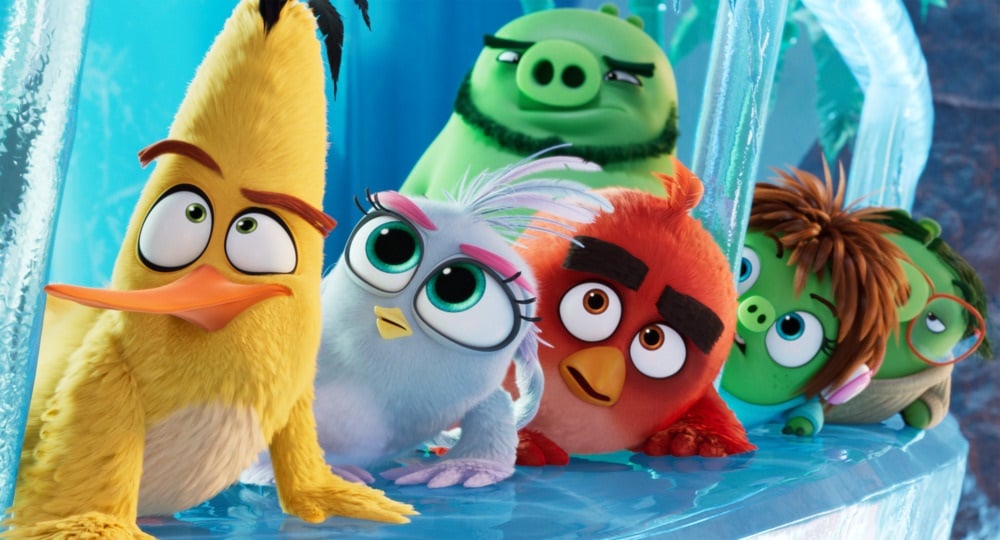 "Angry Birds 2" is a computer-animated comedy based on the bestselling mobile game that kids love to play. Like the mobile game, the movie is about the multicolored Angry Birds and Green Pigs playing pranks on each other, often with slingshots. In this sequel, the Green Pigs and Angry Birds call for a truce and work together to defeat a new enemy who is suddenly hurling ice balls at them.
The Story
The movie takes place on three islands: Bird Island, Piggy Island and Eagle Island. Each island is named after the animals who live there. On Bird Island, Red (Jason Sudeikis) is known as a hero after saving the flock from a Green Pig invasion. In order to maintain his status, Red keeps an eye out on Piggy Island with his bird friends, Chuck (Josh Gad) and Bomb (Danny McBride).
Meanwhile, the Green Pigs are ready to fight back. They use slingshots to launch pies at the birds on the beach. The leader of the Green Pigs, Leonard (Bill Hader) and his new assistant Courtney (Awkwafina) catapult a batch of hot sauce, use a giant magnifying glass to burn things, and dump crabs onto the beach. Suddenly, a gigantic ice ball flies in from Eagle Island. The ice ball hits the waters of both Bird and Piggy Islands, causing a huge splash. Leonard realizes they are in trouble. It looks like Eagle Island is plotting to destroy life as they know it, so this calls for the birds and pigs working together, lest they all die.
Leonard sends a message to Red, calling for a truce. Red is reluctant to go along with the truce, assuming there's a catch. Later, Chuck and Bomb try to take Red away from his heroic duties for a fun night on the town. They take him "speed dating," where Red meets Chuck's brainy sister, Silver (Rachel Bloom). Silver has earned several diplomas and certificates for her intelligence and tells Red all about it. Hmm, Silver's birdy "book smarts" might come in handy when it comes to fighting the Green Pigs.
No one knows where the gigantic ice ball came from. Green Pig Captain Leonard uses a drone to gather surveillance photos to determine that the ice ball came from previously unknown Eagle Island. There, we meet the eagles' leader, Miss Zeta (Leslie Jones), who is fed up with all the ice on the island since it prevents her from enjoying anything. Miss Zeta works with her assistant Debbie (Tiffany Haddish) and is planning to take over Bird Island and Piggy Island. She wants to turn these islands into her own personal paradise.
Meanwhile, the Angry Birds agree to a truce with the Green Pigs. Everyone is concerned about the ice ball and how this new invasion could possibly destroy life as they know it. Red and Leonard recruit Ethan the Mighty Eagle (Peter Dinklage) who appears to be the only eagle on Bird Island. For some reason, Ethan is scared out his wits. Ethan admits that he was once romantically involved with Miss Zeta from Eagle Island. In fact, they were engaged, but he was a coward and left her at the altar on their wedding day. Ethan hasn't seen Zeta since that happened, but now he must pull himself together and help his friends.
The team comes up with a plan to invade Eagle Island. They want to sneak into Eagle Island and disable the super weapon that is launching the ice balls. As you can imagine, comic complications abound, and things don't go exactly as they planned. Miss Zeta also has a few tricks up her sleeves, including a crazy confrontation with Ethan Eagle.
What Parents Should Know
This is a very funny and entertaining movie for children. The animation is well-crafted, brightly colored and fun. The plot is suspenseful with the characters on a "Mission Impossible" style adventure to dismantle the super weapon on Eagle Island. The characters must put aside their personal agendas and work together to accomplish their goal. There's an upbeat message about teamwork, cooperation, forgiveness, and friendship.
Fortunately, there are no evil or scary characters in this movie. The villain is Miss Zeta, an eagle who is bossy and self-centered, but she means well. It's sad that Ethan Eagle left her at the altar on their wedding day, but he felt trapped at the time (because she proposed to him and appeared to be "wearing the pants" in their relationship.) Without giving too much away, there's a happy ending for both of them in this movie.
There's some logical fallacies in this movie: If Bird Island and Piggy Island are tropical places with warm weather, wouldn't that giant ice ball just melt? If Miss Zeta hates Eagle Island so much, couldn't she just leave and relocate to Bird Island?
You might be wondering if there's anything questionable about this movie. Well, there are a couple of scenes where we see green piggy butt cheeks. Yes, they're pigs, but they have rear ends like humans. (It didn't offend me, but just know that you'll be mooned a few times.) There's a scene where an eagle is taking a leak in a urinal and the team tries to snatch his key card. Evidently, some of the characters like to socialize at a bar where they drink foamy beer from frosty mugs. There's some physical comedy, potty humor, mildly rude and suggestive jokes but for the most part this movie is just plain silly.
Final Take
There's a lot of crazy and funny scenes in this movie. My favorite scene is when the eagle guards challenge the Angry Birds to a break dance, with Axel Foley theme song playing in the background.It's also funny when Miss Zeta grumbles about Eagle Island being completely frozen, with ice cubes coming out of the faucet and her pet dog is stuck in an ice cube, making life unbearable for her. Miss Zeta is beautifully adorned in purple and fushia feathers, and it's nice that the movie has some "girl power" with Zeta and Silver in an otherwise all male cast. There's a cute subplot about three pastel-colored "hatchlings" (baby birds) trying to get their baby sisters (eggs) home before they hatch.
"Angry Birds 2" is a good movie to take your kids to, if you're looking for something fun to do before the summer comes to an end.