Mom's Night Out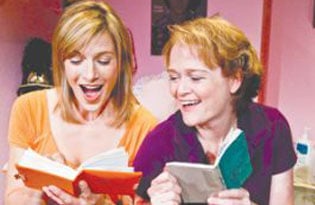 Motherhood is filled with joyous occasions with the family, but moms need to break out from the family routine and have a night out with the girls every now and then. Experts agree parents need a break and that includes doing things aside from family fun. From book clubs to Bunco, patio dining to back-porch potlucks, mamas deserve a night out. Here are some ideas for places to go, things to do and ways to enjoy a night out. Go on, get planning … you've earned it!
1. "Girls Only"
This show is for the ladies. Created from the writings discovered in the two girlhood diaries of Barbara Gehring and Linda Klein, this original comedy celebrates the honor, truth, humor and silliness of being female. From slumber parties to breastfeeding, adolescent love to menopause, and a lot in between, the sketch comedy unites women in many things they love — and hate — but all understand and can laugh about. Presented by Blumenthal Performing Arts Center.
May 7-Aug.1, $34.50, Stage Door Theater, corner of Fifth and College streets, 704-372-1000, www.blumenthalcenter.org.
2. Norah Jones
Leave the kids with Dad, grab your best girlfriends and head out to hear five-time Grammy-winning jazz/pop star Norah Jones, who has released three No. 1 albums, including "Come Away With Me." Jones brings her musical prowess and lyrical charm to Ovens Auditorium for one night only.
May 12, starting at $45, Ovens Auditorium, 2700 E. Independence Blvd., 800-745-3000, www.ovensauditorium.com.
3.Book Club or Bunco
Sometimes the best nights are those that cost little and simply are spent laughing with friends. Book clubs open themselves up to interesting reads, as well as an evening spent reviewing the book with friends, but mostly spent just gabbing and laughing. If you're not that into literarture, consider a night of Bunco or some other card game. Whatever you choose, get it on the calendar, make it monthly and stick to it.
4. Chick Flick
Movie night is a good date night, but sometimes the guys just don't want to see what you want to, or they just don't get it. "Just Wright" and "Sex in the City II" are two flicks coming out in May perfect for a ladies' outing.
In the romantic drama "Just Wright," due out May 14, Queen Latifah plays a physical therapist who falls for a basketball player she is helping to recover from career-threatening injuries. And for those who love following the New York City lifestyles of Carrie, Charlotte, Miranda and Samantha, "Sex In the City 2" is due in theaters late May. AMC is enticing movie-goers to their theaters with half-price movies Monday-Thursday as part of the AMC Weekday Escape.
Pout Power
Before your step out for your night on the town, treat yourself to a new summer shade of lip color. Benefits Cosmetics recently introduced Ultra Shines Lip Shine in hot summer colors, including Spiked Punch, Back to the Fuchsia and Wild Child. Loaded with patent-leather shine, Ultra Shines glide on smooth and lasts through lots of gal gab.