Mom, We Want a Wii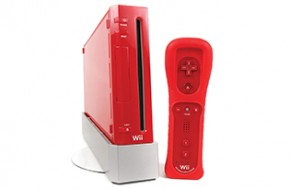 When I was 4 or 5, we got an Atari 2600 for Christmas. It easily went down in history as my favorite childhood gift because it was my introduction to home video games. For my boys, who are both under the age of 7, their first gaming experiences came through a LeapPad and an iPhone. So, when my son Tyler recently asked for a Wii U for his sixth birthday, the thought actually crossed my mind.
Yes, he's only 6 and I get that too much time spent playing video games isn't a good thing. I did a story a few years back on WCCB where a psychologist explained that in moderation there's nothing wrong with your toddler getting some video game time in. I tried to justify buying Tyler a Wii U (and more realistically, my wife Kristen) time and time again. I had a video game system young and I turned out all right. I even played the computer game "Doom" and still ended up a relatively mentally sound person. I haven't been addicted for the past 30 or so years. Up until my kids got old enough, I had hardly played any video games in years. I've never played newer games like "Grand Theft Auto" or "Call of Duty."
I had images of Tyler and I bonding over Mario, Yoshi and Sonic. I'd show him how to warp levels, tricks to beating Dr. Robotnik, and which are the best power ups on "Mario Kart." He'd show me the secrets to all the new more complicated games. Years later, I'd be the cool dad who was pretty good at video games and wasn't clueless when it came to the latest and greatest tech. Over a game of "Madden," Tyler would tell me how school was really going and talk about girls with me like he does with his friends. Even so, Kristen was right. Tyler is 6 and didn't need an expensive game system yet.
My wife explained that we could still bond over video games without spending $300. She recommended pulling her old original Nintendo Entertainment System out of a box in the attic to see if we could get it to work. Initially it didn't, so I watched a video on YouTube on how to clean an NES and its games. After taking it apart, cleaning it and putting it back together we were up and playing "Super Mario Bros." like it was 1985 again.
Tyler thought Mario looked weird at first, but within a few minutes he was hooked. I think seeing how excited we were to go back to our childhoods helped. When the kids earn it, we play together. My wife is showing Tyler how good she is (was) at "Ducktales" and I'm pumped to take turns playing "Megaman" with him.
In the end, my want for Tyler to get a Wii U really came down to my want for Tyler to have a "great childhood." Thing is, he already does. He has two parents who are dedicated to spending time with him, making memories with him, and giving him unconditional love. A cool video game system isn't going to make any difference in 20 years. Plus, old school is pretty cool too and $300 cheaper.

WCCB News Rising Co-Host Derek James balances a full-time job in the glamorous world of television news (including a 2 am wake up and stale coffee) along with managing chaos every afternoon for 5-year-old Tyler and 3-year-old Chase. See more from Derek on Facebook, Twitter and on Vine (derekjamestv).