Middle-School Students Learn to Advocate Through Extensions Program
Peer-buddy programs may seem like a one-way experience, but there's often an explosion of life lessons and strong connections.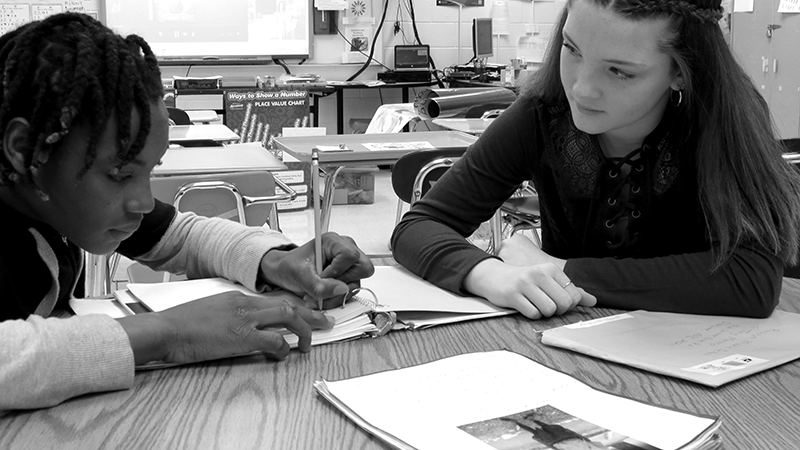 When Trent Lose, 15, saw his middle-school friends at Randolph Middle School disappear from homeroom each morning, he was curious about where they were going. He learned they were peer buddies to students in the Extensions program, Charlotte-Mecklenburg Schools' program for children with significant cognitive disabilities and special needs.
Randolph Middle is one CMS school that offers a peer-buddy program through the Extensions program. The program is designed for general-education students to help students in the Extensions program with adaptive physical education and health classes, and assist with training for Special Olympics sports, including bocce ball, bowling or track-and-field events.
Beyond the designated program tasks, students develop strong connections with one another, says Noelle Glass, a teacher in the Extensions program at Randolph Middle School. Glass gives students in her class the opportunity to ask peer buddies questions during their first meeting. From there, the students determine how they connect. More often than not, long-term friendships are made.
At first glance, peer-buddy programs may seem like a one-way experience—general-education students helping students with special needs. Dig deeper, and you discover an explosion of life lessons that are coming from the program that are changing the way tweens and teens think, feel and act.
Challenging Choices
Trent's curiosity about the peer-buddy program led him to tag along with his friends to the Extensions classrooms a couple of times a week. By the end of the school year, he was an honorary peer buddy helping students in the Extensions program every day.
"It was very interesting and very different," he says. "The classroom was lighter and less stressful. I was nervous because I had never interacted with any special-needs kids on that sort of level. I was actually talking and having conversations with them."
Blythe Pressly, 12, is not new to the world of special needs. Her sister, Chloe Pressly, 16, is a student in the Extensions program at East Mecklenburg High School. Blythe, who is in seventh grade, has been a peer buddy since starting at Randolph Middle School in sixth grade.
"I think this program helps not just the peer buddies and the people in the [Extensions program], but it helps everyone in the school learn about special needs," she says.
Standing Up for Friends
During the 2016-17 school year, there were talks within CMS of the Extensions program being phased out. Peer buddies and past peer buddies from Randolph Middle School launched a campaign on social media, spoke at school board meetings and interviewed with a local television station.
The campaign created such publicity that by the end of the 2016-17 school year, the Extensions classroom at Randolph Middle School was packed with students from the general-education population.
"It really showed how making a stand for (students in the Extensions program) really impacted the population more than you think it would," says Hannah Johnson, 15, a freshman at Hough High School, a past peer buddy and program advocate.
Building Perspective and Community
Middle and high school years are tough for teens, with social and emotional issues that can seem like the biggest of problems. No matter how hard parents try to help their student gain perspective on a disappointment or struggle, it can be an uphill battle.
Mabry Sumner, a freshman at East Mecklenburg High School, says she learned quickly from her time as a peer buddy that not everything is about her.
"It was really cool to watch how [Extensions students] did their thing every day and weren't worried about what anyone else thought," she says.
Trent says he felt humbled by the experience. "When you think you have a problem and you get really caught up in it, it's hard to be mad or get upset when you know someone is going through something you can't even imagine."
Jordan Stanton is a teacher at Randolph Middle School in CMS Horizons, a program for exceptionally gifted students. In 2014, students from Horizons and the Extensions programs began working together. They participated in monthly art meetings, science experiments and dissection labs.
"When we do things together, the kids look at each other as kids that like to have fun and do fun school stuff," Stanton says. "There is no judgement, sideways looks or pity. They see and treat each other as equals."
Nikhita Nanduri, 14, was in the Horizons program at Randolph Middle School. Now a freshman at Ardrey Kell High School, she joined the Friends Club to meet students in the high school's Extensions program.
"Spending time with all of the [Extensions] students taught me the importance of positivity and kindness, especially in the face of obstacles and challenges," Nikhita says.
Unified Champions School
Special Olympics Unified Champion Schools, founded in 2008, brings youth together through sports and education to create school communities of acceptance and respect. Twenty-three schools throughout the Charlotte-Mecklenburg Schools system are Unified Champion Schools. The three pillars of the program are: unified sports, inclusive youth leadership and whole school engagement to create an inclusive school climate. Students with and without intellectual disabilities compete together, cheer one another on and learn the joys of being on a team. Learn more about the Unified Champion Schools programs at specialolympics.org/unified-champion-schools.
---
Vanessa Infanzon is a freelance writer in Charlotte. Follow her on Facebook, Twitter and Instagram @morethanVMI.