Meet the Fehling Five: Page and Jake on Kids, Parenting, and Podcasts
With three kids, two demanding jobs, a high-spirited dog and podcasting projects, how do they make it work?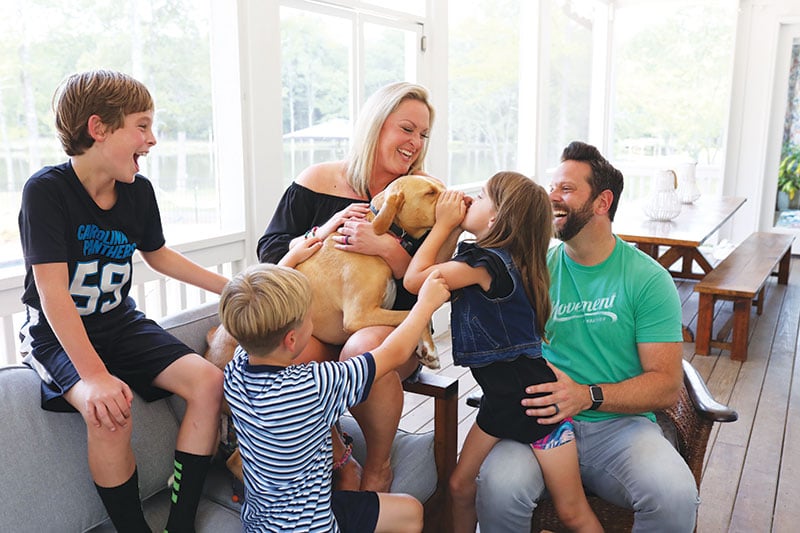 It's a scorching Friday afternoon in Marvin, North Carolina. The kids are at camp, so it's quiet at the Fehling house. Phyllis, the family's rescue dog, runs in the room, barking and breaking the calm. She's a rambunctious 2-year-old with the energy to match the Fehling family of five.
Page and Jake Fehling live in on a family compound at the end of a long, fence-lined drive surrounded by other family members.
"Crawfish!" Jake Fehling cries out. He tugs open the sliding-glass door and enters the living room. "They found four more." The pool cleaner skims a net across the water and fishes out the unwelcomed guests. "Page's brother stocks the lake next to his house with crawfish to feed his bass," Jake explains. "They're making their way into pools in the neighborhood."
It's Friday at the Fehlings'.
Big Personalities With Jobs to Match
On the Friday after the Fourth of July, 10-year-old Ford, Cal, 9, and June, who's 6, are all at day camp. Jake had crossed his fingers for a family trip to Williamsburg, Virginia, but for Page Fehling, duty called. The whole family celebrated at the uptown SkyShow fireworks show at BB&T Ballpark.
Co-host of Good Day Charlotte on Charlotte's Fox 46 station, Page brings the same news-anchor level of energy to her home life. Jake works as a vice president of marketing for Page's brother's company, Movement Mortgage. They're both vibrant personalities who have found careers to match. She talks fast, but he keeps up, and they keep it light, joking with each other often.
Both graduates of the University of North Carolina, the couple met at a Tar Heel alumni event in New York City in 2005. They were engaged within nine months. In 2007, shortly after they tied the knot, they relocated to Raleigh, North Carolina so Page could pursue on-air work. She joined the NBC affiliate and the family stayed there for seven years, where all three kids were born. They've been in Charlotte since 2014 and, believe, as their son says, Charlotte is where all the good things are.
Making it Work
As co-host of a morning TV program, Page keeps an unusual schedule. She sets her alarm before 2 a.m., and she's at the studio by 3:30 a.m., if not earlier. That leaves Jake on deck to get the kids dressed and ready for school during the week. "By the time I get to work, I already feel like put in a day," he says.
Around noon, when Jake is thinking about lunch, Page gets ready to leave the studio and head home for a nap. School gets out at 2 o'clock, so the kids go to after-school programs until 5:30 p.m., giving Page time to rest and reset before the kids get home. Definite atypical schedules, but they're the Fehlings' normal.
"Monday through Thursday, we're on autopilot," Page says. "During the schoolyear, it's game, dinner, home, baths — sometimes baths — homework, rinse, repeat."
Lots of takeout and cereal make it a bit more manageable. "People put so much undue pressure on themselves," says Page. "It's all about what you value. I'd rather be at the game than home cooking."
On Fridays, they value pizza and family movie night. "If anyone ever asks us to do something on Friday, and we say no because we're busy — we're kind of lying," Page laughs. "Fridays are sacred in our house."
Another thing that's sacred? Open communication. "Anytime our kids bring up anything that they want to talk to us about, first, we thank them for asking," Page says. "We appreciate that they're interested enough in asking the question."
That's a takeaway from Jake's mother, but both say they also attend peer groups, where they talk with other parents about what they're facing and how they tackle tough topics.
With demanding jobs and unusual schedules, there are a couple of rules about which they wholeheartedly agree: Hire help any time you can, and put each other first.
On her Instagram account, Page pegs herself "equal parts wife, mom, and early-bird for Good Day Charlotte. … @jakefehling minus the body hair."
The one with the body hair agrees: The relationship comes first. "The greatest day of my life is when I married Page, and then the kids came," Jake says. "That's where 'Date Night with Jake and Page' came from — it's really a date night so we can see each other."
The Big-Ideas Couple
In a tiny room off the Fehlings' master-bedroom closet, there's a small bonus office. Two Carolina-blue stadium chairs — seats 2 and 3 from Chapel Hill's basketball arena — are retired along the wall. Above them, torn-off, flip-board pages stick to the wall. They're scribbled with dozens of ideas and goals.
This is where the work of Jake and Page — the business duo — happens. They brainstorm episodes of their podcast "Date Night With Jake and Page," think about topics they want to tackle and guests they'd like to invite to the show. Journalists and marketers by trade, they understand each other's work and share a need for purpose outside the family.
They also share a website, co-emcee events and lead training sessions. Their podcast stemmed from a segment called "Couples Therapy" on Fox 46, in which Page would interview a local celebrity with his or her spouse. "They were so much fun," Page says, "and I realized you get to see a whole different side of these people."
Recorded in uptown Charlotte, their podcast guests have included Mayor Jennifer Roberts, Panthers player Jonathan Stewart, and Muggsy and Kim Bogues. An offshoot, Page and Jake's Takes are mini-episodes tackling common parenting topics, like what makes a babysitter good or why it's so hard to make friends as adults.
"Those are my favorites," Page says. "They're like self-therapy." In a recent episode, they talked about distribution of labor at home.
My Thing, Your Thing
"We're definitely score keepers," Jake says. And, he reasons, a "my thing, your thing" mentality is healthy. If Jake gets a guys' trip, he explains, Page gets to go to the beach with her girlfriends.
Page handles parent-teacher meetings, laundry and dishes. Jake works on the cars and tackles the bills.
"There's no secret contract or sneaking one past the other," he says. "It's an equal divide."
And it's not just with the two of them. The whole family dives in on weekends for what they've dubbed Saturday Sweep.
"We aren't great about staying on top of house and yard work during the week," Page says. "Instead of making ourselves crazy to keep on it every day, we catch up on Saturdays, when we can fit it in around workouts and games."
Page writes down what needs to get done on a Post-it note so the kids know the next tasks, without asking "What else?" Once the list is completed, the kids get to play or watch a show. The final item? Always give kisses to mom, dad and Phyllis.
The Better Way to Balance
When it comes to work-life balance, "It's not about balance," Page says. "It's about integration."
She credits life coach Tony Robbins with teaching her a concept that works for the Fehlings: Rather than separate work and home lives, merge them whenever possible.
In the evening, when Page has left the station but needs to take a call from a potential "Good Day" guest, she says she often has to apologize for the loud cheers and background noise from a practice or game. "When I'm at work, I'm still a wife and mom," Page says. "And when I'm home, I'm still a news anchor."
The kids join both of them at work often, too. "It's important to us that our kids see us outside just the context of our family," Page says. "And that our coworkers know us outside the context of work."
These days, they're thinking about next steps for the podcast, perhaps looking to partner with a nonprofit. They're also writing a book about having a baby. But mostly they're just trying to keep up and raise good kids. That seems pretty normal.
Virginia Brown is native Charlottean and freelance journalist, writer, and editor who loves sharing stories. Her work appears in Departures, AAA GO magazine, BBC News Magazine, Charlotte magazine, among others. Reach out to her at vbwrites.com.
---
Page and Jake's Top 5 Pieces of Sanity-Saving Parenting Advice
1. Create your own normal and be honest about it.
2. Pay other people, especially babysitters, to help you whenever you can. "Babysitters are the saviors of our lives and world," they joke.
3. Don't feel ashamed about No. 2.
4. "My thing, your thing." Divvy up to-dos based on what you're good at and what you like.
5. This too shall pass. That means the good and the bad, so just live every day as best you can.
---
Saturdays without a podcast, they hire a 'sitter and hit the town. One of their favorite date nights is a pit stop at Resident Culture Brewing in Plaza Midwood and short walk to Soul Gastrolounge for dinner. They're also fans of Black Chicken, Dreamchaser's Brewery, and Emmet's Social Table in close-by Waxhaw.