Meet the 2015 Fit Family Challenge Experts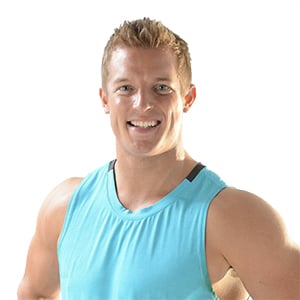 Charlotte Parent's 2015 Fit Family Challenge begins April 21. Two Charlotte families, the McMasters and Bacons, are participating as Spotlight Families. Each family is working with the following fitness and nutrition experts to develop goals, find ways to change behaviors and learn about new ways to become healthier. Meet the experts, follow the families and begin your own family's adventure by signing up for the Fit Family Challenge.
Devan Kline
Fit Family Challenge Fitness Expert
Devan Kline is a 27-year-old entrepreneur, owner and trainer. Three years ago, Kline opened Burn Boot Camp that offers family-oriented camps and sessions with a focus on fitness for moms. With child care, short training sessions and meal prep service, BBC's success skyrocketed and it quickly grew to 10 franchised locations. Kline's inspiration for BBC came from his time as a minor league baseball player when he helped his host mom lose 45 pounds. His role in her transformation made him realize he wanted to help moms on a bigger scale. As a certified personal trainer and fitness nutrition specialist, Kline is excited to work with the Bacon family, one of the Spotlight Families for the Fit Family Challenge.
Quote to Live By
Get better everyday — grow your health, relationships and career.
Role Model
Chris Powell of the TV Show "Extreme Weight Loss" and Michael Jordan.
Power Song
"The Way I Am" by Eminem.
Go to Food
Breakfast casserole with sweet potatoes, eggs and ground turkey.
Favorite Session to Train
Athletic conditioning — the high intensity workout burns a lot of calories and pushes limits.
Hardest Obstacle to Overcome
Portion contro. If the food is in front of me, it's hard not to wipe my plate clean.
Biggest Myth About Fitness
Lifting weights makes you bulky. Simply not true!
Get Devan's Breakfast Casserole recipe here.
Josh Rudolph
Fit Family Challenge Fitness Expert
Josh Rudolph's enthusiasm for fitness and healthy living is evident when you meet him. He is 24 years old and head trainer at the Matthews location of Burn Boot Camp. From an early age, Rudolph was led to fitness by his older brothers who were in the military. When they came home, Rudolph followed them around doing pull-ups and push-ups in the basement. These family workouts shaped Rudolph into the person he is today. With a background in health fitness, physical therapy and certifications from the American Sports Fitness Association, Rudolph is ready to setup a healthy plan for the McMasters, one of the 2015 Fit Family Challenge Spotlight Family.
Quote to Live By
Don't wait on change or rely on others, trust in God and push your limits. You only have one today.
Role Models
Jesse and Justin, my brothers.
Power Song
"Cochise" by Audioslave
Go to Food
Grilled chicken and avocado.
Favorite Session to Train
All. Of. Them. Intensity is different for each session and I love to feed off other's energy.
Hardest Obstacle to Overcome
Varying my fitness routines.
Biggest Myth About Fitness
Not eating will help you lose weight.
Tricia Azra
Fit Family Challenge Nutrition Expert
With 19 years of experience in the health field as a registered and licensed dietician, Tricia Azra's passion for "helping people live a little healthier" has not waned. She loves her job as the registered dietitian at the Carolinas HealthCare System's LiveWell Health Center at the McCrory YMCA. This is a wellness partnership offering support for the community at several YMCAs throughout the city. Azra uses creative and positive ways to educate others about nutrition, "I don't just focus on what you can't have, but what you can have. There are good options, even for challenging diets." Tricia looks forward to inspiring change and serving as a resource to the Bacons and McMasters during the 2015 Fit Family Challenge.
Quote to Live By
Don't wait until Monday, make today count.
Role Model
My mother is probably my greatest influence and role model. She loved healthy foods, trying new foods, and bringing the family together at the dinner table.
Power Song
"On Top of the World" by Imagine Dragon.
Go to Food
Hummus and carrots
Favorite Class to Teach
Diabetes and nutrition class.
Hardest Obstacle to Overcome
Time! Night time and morning time always come too fast for me.
Biggest Myth About Fitness
Detox diets are a great way to cleanse toxins from your body.
Maureen Carlomagno
Fit Family Challenge Wellness Coach
For over 12 years, Maureen Carlomagno has been a health educator. Three years ago, she opened her own business in Charlotte, Your Wellness Coach. Carlomagno's coaching practice offers a wide variety of services to the community. She teaches classes that aid in saving time and managing stress. Carlomagno provides a variety of workshops, small group and individual sessions for new moms, brides and people interested in building their career. With a unique approach to helping others, she coaches her clients by listening to their needs, using a health history questionnaire and personality inventory. She assists the client in defining goals and developing a realistic action plan.
Quote to Live By
"Don't ask yourself what the world needs — ask yourself what makes you come alive, and then go do it. Because what the world needs is people who have come alive."
Harold Thurman Whitman, philosopher
Role Model
My mother.
Power Song
Currently, "Happy" by Pharrell Williams. We like to do a family dance to it in the living room.
Go to Food
Whole wheat toast with mashed avocado and sliced tomatoes.
Favorite Wellness Tip to Pass On
Find support to keep you motivated! Examples of this can be a workout buddy, healthy lifestyle apps and health professionals.
Hardest Obstacle to Overcome
Scheduling down time into my weekly routine.
Biggest Myth About Fitness
It's hard to incorporate healthy habits into your current routine. Small steps can take you a long way.
Read to get fit?
Register your family for the Fit Family Challenge.
SEE ALSO:


Meet the 2015 Fit Family Challenge Spotlight Families