Meet Ronald McDonald at First Night Kids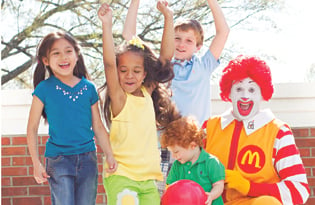 Ronald McDonald is helping Charlotte families ring in the new year at First Night Kids in uptown Charlotte on New Year's Eve. The Ronald Show at NASCAR Hall of Fame's High Octane Theatre will feature magic, juggling and Ronald's favorite ideas about staying active, being a good friend and giving back to the community. We had a chance to talk to Ronald about his plans for the new year, and a little more about the celebration on New Year's Eve.
Q: Are you ready to celebrate the New Year?
A: Of course! I love new beginnings, and 2012 is going to be a great year.
Q: Do you have any New Year's resolutions?
A: Sure. I am going to try to share more smiles in 2012. Smiles are easy and they're
free and guess what? They're portable! So you can take them anywhere and share
them with just about anyone.
Q: Are you celebrating the New Year with your family?
A: Well, I'm lucky this year because I get to celebrate New Year's Eve with some of
my best friends: children and their moms and dads from all around Charlotte! I'll be
at First Night Kids uptown from noon until 5 p.m. New Year's Eve.
Q: What will you be doing at First Night Kids?
A: I will take the stage in the theater of the NASCAR Hall of Fame three times
Saturday afternoon: 12:45 p.m., 2:15 p.m., and 3:45 p.m. You should come out and
see me!
Q: What will you do in your show?
A: Oh, a little magic. And also a big magic. And I'll make you laugh, because laughing
is a good way to celebrate, don't you think?
Q: What's your favorite part of New Year's Eve?
A: I love to count down. You know: 10, nine, eight, seven, six … Oops, sorry; I got
carried away. We're going to gather at the main stage on Levine Avenue of the Arts
on First Night at 4 p.m. for a countdown to 5 p.m. Then we'll celebrate the New Year
with lots of cheering. I plan to cheer extra loud.?