Max Gamer: A New Kind of Hero
A Superhero who is also an Aspie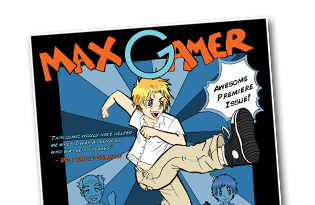 What makes a superhero? In the comic book world, it is usually a tragic accident that gives a hero special powers, making them appear to be from another world. Children with Asperger's, an autism spectrum disorder, may feel like they are from a different planet, often excluded at school and in social situations. Frank Gaskill from Southeast Psych in Southpark is on a mission to change that notion and show that children with Aspeger's – or "Aspie's" – are their own kind of superhero.
Frank Gaskill Gaskill is the co-creator, along with Ryan Kelly, of Max Gamer, a superhero who is also an Aspie. "Superheroes are cool and have special abilities … Max Gamer is a little boy, and his Asperger's gives him special abilities, like seeing patterns that other people cannot," says Gaskill.
The comic is written in anime style because it features exaggerated facial cues and makes it easier for the children to recognize the emotions of the character.
Max Gamer is also drawn in such a way that various age groups are able to relate to the comic. When the comic was still a prototype, Gaskill held a reading for children with Asperger's and their parents. Gaskill remembers one little boy looked up and asked, "Have you been following me around?"
"Max Gamer is a way to show Aspie's in a positive way," says Gaskill, "empowered, accepted, and helps them recognize and embrace who they are rather than fight against it."
Find more information at maxgameronline.com.