Matthews Designated a Bee City USA Community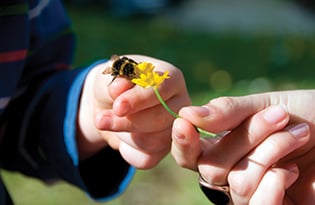 The Town of Matthews recently took its place as the fourth Bee City USA community. Mayor Jim Taylor was thrilled with the decision, expressing pride that this worthwhile program started in North Carolina. "Matthews' Town Commission let it be known that they understand the importance of pollinators, and therefore want to make their town more pollinator-friendly," Taylor says.
The goal of a Bee City USA is to plant and attract more pollinators, including bees that are needed for healthy food production, which includes planting native, flowering plants, shrubs and perennials.
"How each city celebrates pollinators is up to them, but we especially encourage educational programs for children, like school gardens. When a child falls in love with pollinators, they are friends for life," says Phyllis Stiles, Bee City USA founder and director.
For information about getting involved with pollinator education and habitat development in Matthews, contact Michael King, chair of the Town of Matthews Parks and Recreation Advisory Board at mking@matthewsnc.gov. Find more about becoming a Bee City USA community at beecityusa.com.