Marbles Kids Museum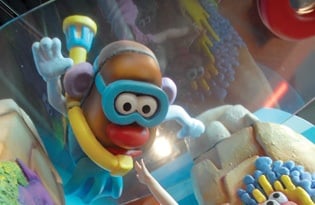 Winter's here, and we have fewer chances to play outdoors. For a change of pace, I took my 4-year-old daughter, Lily, to meet a friend and her two children at Marbles Kids Museum in the heart of downtown Raleigh. The museum offers hands-on, interactive exhibits for children of all ages to explore, discover and learn.
We arrived at the museum around noon and began our tour. One first stop was the Family Clubhouse, a room full of soft climbing equipment, hula-hoops and a mini-trampoline the younger kids really enjoyed. This is a nice area for parents with crawling babies and younger toddlers.
Next, we made our way to the Around Town! gallery, which was by far Lily's favorite part. There are various modes of transportation to play on, including a bus, a fire truck, an ambulance, a car and a boat. These are set up in individual play stations with lots of other toys. For example, Lily fished and "caught" magnetic fish off the boat, and she played doctor to the newborn babies at the hospital. There's also a farm, complete with oversized plush cows, pigs, horses and chickens laying eggs. Lily enjoyed growing vegetables in the garden, then shopping at the grocery store for produce and cooking dinner in the large play kitchen.
I literally had to pry Lily away from all this fun to move to the Splash! gallery, where kids can play with water toys in mini-pools and explore with running water (they have plastic smocks to keep kids dry!). Next door, is an aquarium with fish, hermit crabs, snails and a bamboo shark. We timed our visit perfectly as they were feeding the shark while we were there, and the children loved seeing the shark eat shrimp and oysters. Also included in the Splash! gallery is a giant pirate ship, where kids can climb aboard and walk the plank.
Next was the Ideaworks gallery, but we didn't spend a lot of time in this area as some of the components seemed more targeted for school-age kids. The exhibit centers around four main areas: Go Zone, where kids can see how simple machines work and move; Super Structures, basically giant Lego blocks where kids can build structures; Workbench, a hands-on construction and building area with working tools; and StudioSTYLE, where aspiring designers can design apparel, accessories and more.
The BB&T Storybook Forest is a woodland setting perfect for families to enjoy some quiet time and explore a good book, or have some fun putting on a show together.
Parents of older children might be interested in an upcoming exhibit, Canstruction 2010: One Can Make a Difference in Our Community, that opens Jan. 18 and runs through Feb. 14. In its 10th year, it is a land of three-dimensional comic book and cartoon heroes created entirely out of canned and packaged food. Nine architectural and design firms worked to create giant-size sculptures using cans and boxes of food.
Also opening Jan. 26 is Moneypalooza. Kids make decisions on how to save, spend and share the money they earn. Parents love it, because children learn to distinguish between needs and wants!
Marbles Kids Museum also has an IMAX Theatre that shows larger-than-life movies and 3-D films. "Avatar" opened Dec. 18, and "The Greatest Places" will open Jan. 6. There is an additional admission fee for the movies ($6.95-$9.50 for children ages 1-11; $8.95-$11.95 for teens and adults), and show times are listed at the front desk or can be found online.
If you go, definitely allow at least two hours to explore the museum and more if you plan to catch a movie at the IMAX Theatre. My daughter definitely enjoyed her time at Marbles — a sure sign for me is a child who falls asleep in the car on the ride home!
If you go , you need to know …
Marbles Kids Museum
201 E. Hargett St.
Raleigh
919-834-4040
On the Web
www.marbleskidsmuseum.org
www.imaxraleigh.org
Hours and admission
Closed Mondays
Tuesday-Saturday, 9 a.m.-5 p.m.; Sunday, noon-5 p.m.
Children 1-11, $5; adults, $5 (children 1 and younger are free)