Mapping Out Middle School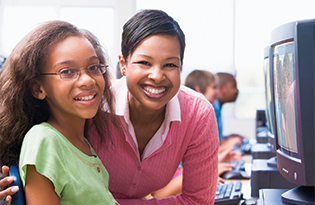 Middle school can be a startling transition from fifth grade. Class times are longer, and students have only minutes to change classrooms. There's no recess. The homework load is significantly heavier, as are students' responsibilities for their work and schedules.
Wando O'Shea, whose son is in eighth grade at Southwest Middle School, says that the start of his sixth grade year was scary for her too. The size of the middle school alone was intimidating: He went from a school of 700 students to a school of 1,500 students.
"I was one of those parents who panicked and said, 'Oh no, this is middle school – everything is going to change,'" says O'Shea.
School counselors acknowledge that middle school can be challenging, as students' choices can factor into their success in high school and college. But with good study habits and smart guidance in middle school, students will be well-prepared for a strong academic career.
Making the Grade
While most middle school grades don't bear on high school transcripts, counselors recommend that students take the highest level classes they can while maintaining an A/B average with a good work ethic.
"If you're making a low C, you need to back up," says Amy Jurusik, sixth-grade counselor at Community House Middle School.
Grades in a few middle school classes, such as foreign languages, can go on a high school transcript, so students should be mindful that their class performance can affect their high school GPA. Middle school grades also can influence placement in high school courses.
Em Covington, school counselor at McClintock Middle School, said students should take higher level classes if it keeps them challenged.
"How a student performs in a class in middle school could influence the teacher's recommendation for a higher level class in high school and/or could impact one's mastery of skills at the next level due to a weak foundation," she says. "Everyone makes mistakes and poor choices, and middle school is the time to learn from those."
Finding Their Way
Students also can use their middle school years to figure out where their strengths are and what they like to do. Many schools offer electives in foreign languages, choir, band, drama and dance as well as clubs, sports teams, and arts and music programs.
While sixth grade is a good time for students to "get their feet wet," says Christy Babao, seventh-grade counselor at Community House Middle School, "seventh grade is not too early to (start learning) about what you want to be studying in high school and what you want to do after high school."
Colleges look for well-rounded students, not just stellar grades, so community service and extra curricular activities in middle school can build a great foundation for a college-bound student. The pressure to be involved and make good grades ramps up in high school, so middle school students should learn how to balance their studies, down time and extra curricular activities.
Counselors recommend that students find a routine that works for them. That may mean playing sports in the afternoon and doing homework in the morning before school.
"Many of our kids are very busy," says Babao. Learning to manage time in middle school will help students manage the heavier workloads and increased independence in high school and college.
Charting a Path to Higher Learning
Good study habits learned in middle school can make the difference between success and failure in high school.
"We see very capable students coast through middle school without doing nightly homework only to be rocked in high school with the ever increasing academic demands," says Covington.
By eighth grade, students should be independent learners who can manage their own workload. O'Shea says her son had to learn to work incrementally on big projects so that he wouldn't rush to finish at the last minute. After procrastinating several times, he figured out that spacing out his work was much less stressful.
Parents of middle schoolers should begin looking at college entrance requirements and help their kids set reachable goals. Counselors stress that students with a good work ethic and well-rounded high school career can go to college, even if they aren't at the top of their class.
"I think you need to have high expectations for your child, but you also need to be realistic," says Dawn Baker, Community House Middle School eighth-grade counselor. "There are colleges for average students where they can get a great degree and have a rewarding career."
Marty Minchin is a freelance writer and mother.

Related Articles:
> Tween Survival in Middle School
> On Track for the Future
> Leaving the Elementary School Years