Managing 'Mommy Guilt'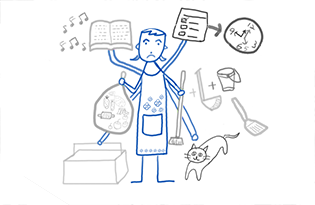 Mommy guilt. If you're a woman with children, you've felt it — sometimes just a little, sometimes a lot. Mommy guilt is an equal-opportunity offender — it strikes whether you're 25 or 45, CEO of your home or a Fortune 500 company, living in a small town or a big city.
Women who work outside of the home haven't cornered the market on it. Work-from-home and part-time-work moms feel it, too. Mommy guilt also doesn't discriminate between women who have family around to help, or moms who depend on nannies, babysitters, daycare or school to keep their kids safe and happy.
Full-Time Guilt
Kristi Roe, 41, of Charlotte sees mommy guilt from both sides, as a mother and a family counselor. Roe, who has two children, Spencer, 6, and Harper, 5, is director of patient experience at Carolinas Healthcare System. She previously had her own counseling and consulting business, and still counsels several clients, mostly women, with family issues.
Mommy guilt is real, says Roe, but the level of guilt, "depends on who you are," she says. "All moms have some level of guilt. I think many women feel pressure to do things a certain way … the food they feed their children, the way their children behave. Parenting is intense. Sometimes women lose themselves in their child; they try to micromanage everything."
Roe works long hours and travels frequently. When her son was born, she started with a nanny and worked part-time for a while. "But when my daughter came, we put both of them in daycare full-time. And they were both fine."
Roe and her husband Greg, who is an IT security analyst at Wells Fargo, have no family in the area. "We're here totally alone. It was a hard struggle entering mommyhood." When asked if she has mommy guilt? "Oh, absolutely I do. But I'm very passionate about my career path. My job is important to me. I'm ambitious. The guilt would be worse if I didn't feel good about my children's lives. But I do."
SEE ALSO: Find a balanced approach to your busy life at the 17th Annual Moms@Work Conference
Carrying the Load
Libby Perry, 33, of Cary, confirms Roe's view that some moms feel guilty if they can't manage everything.
"I feel guilty for working with young kids at home.  I feel guilty when I think I am letting the 4-year-old watch too much TV. I feel guilty if I think that maybe I spend too much time looking at my phone around the kids.  I feel guilty that I don't take as many pictures of the 1-year-old as I did with the 4-year-old.  I feel guilty that I don't always cook healthy enough meals."
A Pittsburgh native, Perry works for a software company in Raleigh. She has two children, Meadow, 4 1/2 and Domenic, 1 1/2. Her husband, Tony, 32, works as an executive for a pharmaceutical company is Raleigh.
Perry said she is lucky that her employer let her go to a 30-hour workweek after having her second child. While her husband works long hours, she said she tries to make running a house while working and having a family as easy as possible.
"Things like Lowes Foods to Go, Amazon Prime and a house cleaning service are things that help," she says. "I wish I had more time with my kids. And I wish the kids and I had more time with my husband, she says. "As far as lessening the guilt, I'm still looking for ways to do that.  I just remind myself that I am doing the best I can right now. Sometimes I feel like I am in survival mode!"
SEE ALSO: Fifty companies in North Carolina that make work-life balance easy for parents
Making Hard Choices
Even moms who have plenty of family around still feel the twinges of guilt. That's the case for Sherri Weddle Bowen, 44, of Winston-Salem, who is the director of the office of the president at Forsyth Technical Community College. She is also the college's team captain for the March of Dimes and sells a line of flameless candles.
She had her children while working on her bachelor's and master's degrees. "What was I thinking?" she said. Her two children, Cody, 10, and Dakota, 8, spend most of their free time with her husband, Marty, 45, a captain at the Lewisville Fire Department, her parents or her in-laws. Even with family members to help care for her kids, Bowen says "there are times I feel the mommy guilt … but you still have to do stuff for yourself."
Bowen juggles kids, husband, job and other activities with "lots of planning." She comes in late every year to take her boys to the first day of school, "but that's the only time I do it, and I don't pick them up. And her husband is the primary cook in the house. "I say that you can pick two of three things: your sanity, a clean house or your family. I choose sanity and my family and kids."
Give Yourself a Break
Amanda Harrell, 39, of Raleigh, a licensed marriage and family therapist at 3-C Family Services in Cary spent the beginning of her career "going full throttle, going 100 percent. "I was working from 9 a.m. to 8 p.m. every day," she says. She then had her first child, daughter Harper, now 6. Harrell says she had to figure out how to keep her long hours along with a newborn. But when her twin boys, Quaid and Hudson, now 4, came along, she said, "it was an easy choice" to begin working part time.
Now she works two days a week, seeing clients "back-to-back" from 9 a.m. to 8 p.m. When she counsels a woman who is feeling mommy guilt, she first tries to determine if the guilt is justified or not justified.
"A lot of women are walking around with unjustified guilt. They feel they're not doing enough. They feel unworthy. In that case, there is a lot of work we can do to figure out and get to the bottom of their feelings."
If the guilt is justified, she works with the woman to figure out ways to spend more time with her kids. "Maybe you do something special with your kids at the end of the week, maybe you attend a baseball game or other activity they are involved in on the weekends," she says. Even though her husband, Jim, 39, an attorney, "works insane hours," they find time together as a family on weekends. "The kids go to bed fairly early now, so that's a way my husband I can have time to hang out."
"Moms need time to themselves," says Harrell. "Many have a hard time doing something nice for themselves. If you lack energy, are running on empty, you're doing things halfway with your children."
Anne Wooten Green is a freelance writer and editor from Winston-Salem. She still feels mommy guilt even though her children are 26 and 22.
SIDEBAR
Tips for Managing Mommy Guilt
Don't compare: Log off Pinterest and stop chatting with the PTA moms, because what you think is an ideal mom just doesn't exist.
See the benefits: If you work outside the home or from home, realize that your family is not only benefitting financially, but you're also setting an example for your kids. They will be proud of your accomplishments
Be kind to yourself: Kids don't need a perfect mom. They just need unconditional love.
Don't separate work and family: If you're passionate about what you do, share it with your kids. It's a way to teach them important life skills.
Be present: It's hard not to check your email when you're at home, but setting limits can ensure you'll be fully engaged when you're with your children.
Make "me" time: Just because you're home doesn't mean you have to devote every second to your child. Take 15 minutes to exercise, meditate or watch TV to recharge.
Related links:


4 Things You Didn't Know Would Make You Happier at Work

A New Generation of Mompreneurs

High Performance Procrastination