Making the Switch From Public to Private School
All families that consider private school seem to have one thing in common: They're looking for a more individualized educational experience for their child.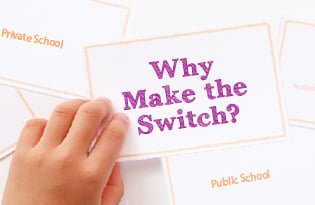 For the majority of kids across North Carolina, back to school means big yellow buses, busy hallways, noisy lunchrooms and large classes. But for other kids, the school experience is slightly different: carpool transportation, fewer students in a class and smaller school campuses. These children's families have opted out of public school, and chosen private school instead.
According to the John Locke Foundation, a North Carolina nonprofit advocacy group and research institute, 6 percent of North Carolina students attend private K-12 schools, and the number is growing. There are 700 private schools in North Carolina, serving more than 114,000 students. Mecklenburg County claims the largest number of private schools with 88, followed by Wake County with 80. Guilford County, with 38, has the third-highest number of private schools.
While many kids begin their education adventure in private schools, others choose to move from the public school setting into an independent school. "While the reasons are different, all the families that consider private school seem to have one thing in common," says Kim Freedman, admissions counselor at New Garden Friends School in Greensboro. "They're looking for a more individualized educational experience for their child."
Stability
Raleigh mom Michelle Hardy says making the switch from public to private school evolved from her children's needs. Her daughter, now a seventh-grader, started out in public school.
"She had a great public school experience," says Hardy. "My biggest frustration with the public school system was that every single year, they changed the plan. School choice, year-round, no year-round, calendar changes; we never knew where she'd be going to school the next year."
Hardy would attend school board meetings every year where, she says, "beautiful plans would be laid out and then scrapped the next year." Frustrated, Hardy tried a charter school for her son's elementary years while continuing to consider other options for her older daughter. "I looked at all the possibilities and toured as many as I could," she says. "We did the lottery for charter schools, went to magnet fairs, and tried to see every possibility."
After months of searching, the Hardys turned to private schools and chose Ravenscroft in Raleigh. Ravenscroft is a big school, but the class sizes are small, so the teachers and students really get to know each other well, says Hardy. "Our experience has been nothing short of excellent," she says.
Proximity
Kimberly Armstrong Hillegas and her family have lived in North Carolina for almost two years. "We were really excited about the public schools," the Union County mom says. "We'd heard good things about them, and moved less than 2 miles from the school we wanted so we'd be close and could get involved."
Hillegas has older kids who went through public schools, so she was prepared to send her youngest through the public education system, too. But after moving to the zone they wanted, Union County schools were redistricted. "Instead of going to the school right down the road, our daughter would be going to a school 10 miles away, driving right past five other schools to get there," she says. The Hillegas's opted to make the switch to a private school that matched their parenting philosophy and religious interests, had smaller class sizes and worked at students' paces. The bonus: Her daughter skips the long bus rides and has more time to just "be a kid."
"It's a trade off," Hillegas says. "At public schools, kids experience more diversity and learn to cope with situations that aren't perfect, like kids with some behavior challenges. There are also more resources and more sports and other activities." On the other hand, she adds, public schools have larger class sizes and testing isn't as targeted or useful as it could be.
Challenge
Hillsborough mom Elizabeth Hays started her son's education at a local public school. "It was a good school and one of his most influential teachers was his first grade teacher," she says.
But while he did well academically and socially, "he just didn't seem particularly enthusiastic about learning," she says.
When her younger daughter was school-aged, they chose differently and sent her to Duke School, a private school in Durham. She offered her son the opportunity to switch, but he was reluctant to change schools, at first.
After a few years passed, he came to her and asked if he could go to the same school as his sister. Since he was going into fourth grade, Hays felt he was old enough to be involved in the decision process, so when he said he wanted to go to Duke School, she enrolled him.
"It's a huge change. Huge change!" she says, three years after making the switch. "He's bubbly about school, and learning and curious again about the world around him. He's so enthusiastic about his education."
---
---
How to Decide
How do you know if a private school would be right for your family? Here are some tips from private school counselors and administrators.
Consider your child's style of learning and level of social engagement.
Some kids thrive in the busy world of public school. Others might not. Knowing your child, her personality and her goals can help you make the decision.
"Students care about their work and want to be around other students who care about their work," says Freedman. If your child isn't finding what she needs, it could be time to look around.
Evaluate missions.
Most private schools specialize education and offer something different to families. "That's the thing that makes independent schools so good for families," says Duke School Head of School Dave Michelman. "Each of us are able to offer a mission that is unique to our school. The public schools, who do unbelievably great work while very under-resourced, have a tough mission to supply education to everyone who walks through their door."
Consider — but don't be deterred by — pricing.
"People think independent schools are expensive," says Michelman. "That's true to an extent, but all of us offer robust financial aid programs so we charge based on what people can afford to pay. I'd hate for people who think it's a good choice to say, 'I can't afford it.' "
Think about family dynamics.
"The decision to attend a private school will most likely create a shift in the dynamics of the family as priorities shift, and responsibilities of each family member may change," says Charlotte Preparatory School Counselor Erin Kelly. Parents should consider what additional support may be needed as they go through the transition, which may come from family, friends, school staff or other community members.
Block out external pressures.
"You have to look deep inside your own family and determine your values and priorities, and find a school that aligns with that," says Ravenscroft Head of Lower School Payton Hobbs. "There is no one 'best' school out there; there is only the school that's best for your child and your family … Find the school that best meets your family's needs now as well as hopes and dreams for the future."
---
Kathleen M. Reilly is a writer and author living in Raleigh with her husband and sons.