Making the Case for Single-Gender Classrooms
Whether all boy or all girl, single-gender classes allow for different learning styles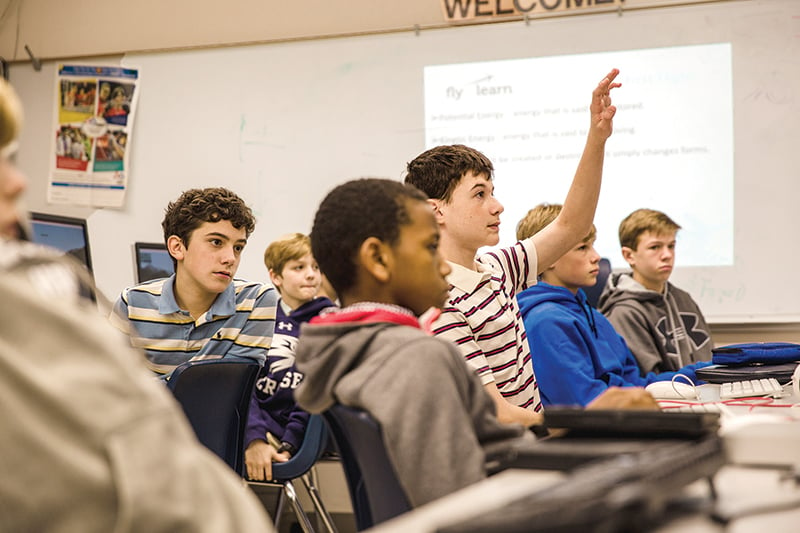 Educators are always looking for the best ways to help students learn. Some local schools and programs around the country are trying single-gender classrooms — an idea with old-fashioned roots that advocates say can provide innovative solutions to some of today's educational challenges.
As early as the mid-1800s, the United States was already a leader in public school co-education, says Johann Neem, author of "Democracy's Schools: The Rise of Public Education in America." Boys and girls, however, often occupied different sides of the classroom and many institutions of higher education remained single gender well into the 19th and 20th centuries. The common view was that "boys and girls/men and women had different social roles and virtues, and each had to be protected," Neem says.
These days, advocates for separating genders say it's about providing educational equity for all students. They argue that subconscious biases can prevent equal participation in class, that girls and boys have different learning styles, and that kids can more easily be themselves in a single-gender classroom setting.
At Charlotte Latin School, a private school serving children from transitional kindergarten through high school, several middle school courses are separated by gender. These include all seventh grade math classes and elective engineering courses. Head of Middle School Todd Ballaban says these programs help ensure all students, particularly girls, receive the best support and opportunities to succeed.
"If you just look at the facts of the working world, as sad as I am to report this, when you look at the STEAM field, it's dominated by men," Ballaban says. One culprit may be unconscious biases that happen in a classroom setting,
he says.
In recent studies of gender equity in public and private schools, as reported in a 2017 article in Edutopia, boys are called on more frequently than girls, they dominate classroom conversations and receive more feedback from teachers than their female peers. One national study also found the number of male characters used in school curriculum outnumbered females two to one.
Charlotte Latin School hopes to counteract phenomenons like these with their single-gender courses. Charlotte Latin teacher Barbara Morrow teaches seventh- and eighth-grade Engineering for Girls courses and says it enables "girls to think and design without fear of judgment or social unease during a precarious time in their reasoning development. The hope is to expose girls to this type of thinking, and allow and encourage them with more opportunities in STEM fields. Girls need to feel that their ideas are heard, and the best way to do this at this age is to teach them with other young women."
The school has created a mentoring program between high school and middle school girls studying science. It also partners as often as possible with women in STEM professions and with the Women In Engineering program at North Carolina State University.
"For girls, there is nothing more powerful than seeing women in the world making a difference," Morrow says.
What About Boys?
"Boys learn very differently than girls in middle school," says Ballaban, who previously taught English and debate, and holds a master's degree in education leadership.
"Typically, the boys need to be up and moving a bit more than girls do developmentally. I think our teacher of boys' [engineering] classes can respond to those needs a little differently than they could in a co-ed environment."
That attention to physical needs was something parent Erin Hadden especially appreciated about her son Knox Hadden's experience in an all-boy fourth grade class at Charlotte-Mecklenburg Schools' Rama Road Elementary. Knox's teacher, who also coaches junior varsity baseball at a local high school, would take the boys outside when they started getting restless.
"I think almost all kids, but boys in general, have a lot of [energy]," says Hadden, whose son opted into the single-gender class as a fourth grader. That option is also available to fifth-grade students at Rama Elementary. Knox, who is now headed into middle school, responded well to the all-boy classroom environment that was run like a team and often incorporated other sports analogies into learning.
"If one person messed up, they were all in it together," Hadden says. But the flip side was that students learned to help each other. For instance, if one student had trouble focusing, he was strategically paired with another student who could help him stay on task.
Another recent trend in single-gender education has been for some charter schools to use it as a way to boost high school graduation rates and encourage continuation into college for young men of color, says Dr. Felicia Harris, an adjunct professor at the University of North Carolina at Charlotte, who specializes in women's and gender studies, as well as Africana Studies. According to a 2016 report from National Center for Education Statistics, black and Hispanic males' enrollment lags behind other groups in degree granting postsecondary programs.
What Are the Real Advantages?
Harris says when it comes to the benefits of single-gender education, a lot of the research is anecdotal. "There are no significant, proven advantages of single-sex education over co-ed schooling," she says.
There are several reasons research in this area is difficult. For one, it is hard to isolate gender from other factors, such as socio-economics, availability of books at home and other resources that may lead to positive academic results. Longitudinal studies take a long time to produce because the research occurs over the course of years or decades, and the relatively small population of female students and professionals in STEM fields make existing studies hard to replicate.
Although Ballaban is well aware from his own graduate studies that there is no empirical data clearly demonstrating that girls or boys learn better this way, the single-gender engineering programs at Charlotte Latin continue to be among the most popular electives in the middle school.
"I haven't seen any reason to change it because I think our program is thriving," he says.
That also seems to be the case at Rama Road Elementary where Hadden says her niece was unable to enroll in an all-girls fifth-grade class this year because it had already reached capacity.
While single-gender classrooms may not be for everyone, it's a choice that some families are embracing.
"Sometimes it just helps to have other people around that are going through the same things," Ballaban says. "We're very sensitive to when we need to separate the kids and when we don't."
Liz Rothaus Bertrand lives in Charlotte with her husband and two sons, ages 6 and 9. Follow her adventures on Twitter and Instagram @tournesol74.