Making the Case for a Gentler C-section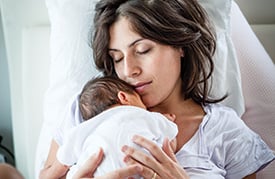 For many women, Cesarean sections become an unexpected reality, and after one C-section, it becomes the birth plan for more children. Hospitals are now taking steps to create a more natural birthing environment in the operating room. One big step is allowing baby and mom to have skin-to-skin contact soon after delivery by having a nurse place the baby on the mom's chest.
"Research supports keeping mom and baby together as soon as possible," says Laura Corsig, coordinator for baby-friendly initiatives at Novant Health. "It increases oxytocin production that helps ease [mom's] pain and bond to her baby, and brings out baby's instinct as they transition to the world outside the womb."
Hospitals also are starting to implement the option of using clear drapes that allow mothers to see what's going on during the procedure if they choose.
To be sure you get the birth experience you want, do your research and discuss with your doctors what you'd like your birth plan to be whether it's a scheduled or unplanned C-section. "There is nothing more life-changing miraculous than a baby being born, and it is our responsibility to help you meet this beautiful picture," says Julie Delcasino, senior director for women's and children's services at Novant Health Presbyterian Medical Center.
SEE ALSO: Answers to your questions about the gentle c-section trend