Making the Blended Holidays Work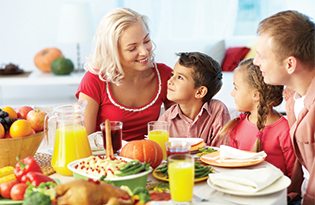 When I was a newly married stepmom, I had big plans for our first holiday together as a family. We had only been married a few weeks by the time Thanksgiving rolled around, and while the custody agreement made it so we didn't have Thanksgiving Day with my stepson, I wanted us to all celebrate together. So I cooked all day Friday – a turkey, dressing, mashed potatoes and gravy, and even pumpkin pie, which was his favorite at the time. When he and his dad walked into our beautifully decorated dining room that night, my then 7-year-old stepson broke into tears. He had celebrated Thanksgiving with his mom the day before, and was struggling to reconcile the fact that he was doing it again with his dad and a new family. Needless to say, it ended up being a horrible night for all of us, and my dreams were crushed.
Like most experiences in the life of a blended family, I learned a lot from that one. I had certain expectations; my stepson had his; and even my husband had his own, which obviously didn't all agree.
"Holidays are built around high expectations for family and bonding. The problem is that everyone in the new blended family has different expectations of playing out their rituals," says Deborah Rees, licensed marriage and family therapist in Cornelius. "Recreating your stepchild's or your past experiences may be impossible."
Making it through the holidays as a blended family means working together, communicating about expectations and being very flexible. Here are some tips to help make it work.
• Take the opportunity to start a new tradition for your new family, even if it's something as simple as driving through the neighborhood to look at Christmas lights.
• Communicate with your kids to pick the events or traditions that mean the most to them, rather than trying to pack too many things into the time you're all together.
• Be respectful of past traditions and try to refrain from saying, "That's how we've always done it."
• Remember to be flexible. It's not about what day or time you celebrate, as long as you celebrate together.
— Karen Alley lives in the Triad area and is proud to be part of a blended family.