Making Summer Camp Affordable
Finding funds to make it work.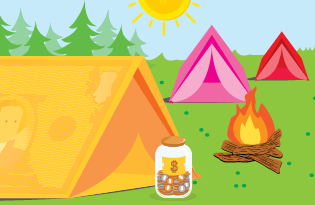 For many kids in the Carolinas, the best part of summer is spelled C-A-M-P! Some kids head to the mountains, others to adventure camps along the coast. Down the street or across the country, the camp experience allows kids to become more independent, learn new skills and make lifelong friends under the summer sun.
Peg Smith, CEO of the American Camp Association, says camp fosters unique experiences. "When you are at camp, it is a promotion of your assets," she says. "The whole community is geared toward you having success. There is nothing more powerful than being successful."
Of course, all these wonderful experiences and lifelong memories do come with a price tag — one some parents may think they can't afford. But there are ways to bring costs down and give your little ones a fantastic camp experience.
---
The Value of Camp
Smith says the No. 1 rule of planning for summer camp is to know there is a place for everyone. "There is a camp for every child and every budget," she says. In fact, the ACA camp community annually provides nearly $216 million in camp scholarships for children across the country. "If parents assume there is not a camp out there, it's a matter of doing research."
Gail Mashburn, administrative director for Camp Hollymont, a female-only camp in Asheville, says camp is a gift that lasts long after it's time to go home. "Camp provides children with the time and place for personal growth — learning to think and act independently within a safe, nurturing community." Mashburn says her camp offers many ways for parents to save on tuition. "We help camp families with a variety of early registration discounts, sibling discounts, camper-recruitment discounts and special drawings."
---
SEE ALSO: 7 Ways to Make Camp More Affordable
---
Ways to Save
Parents who send their kids to camp year after year know the value and monetary commitment well. "Camp is expensive no matter what strategy you employ, but the cost is worth it," says Charlotte mom Wendy Foley. "My kids come home dirty and tired, but glowing and full of stories and songs." Her two oldest children attend YMCA Camp Harrison at Herring Ridge in the Brushy Mountains of North Carolina each summer. The family belongs to the YMCA so they receive a membership discount.
Besides memberships, many camps offer early bird and sibling discounts, scholarships, or internships. Other discounts could be available that aren't published, so never be afraid to ask.
Kay Anderson, associate director and parent liaison of Skyland Camp for Girls in Clyde, which is nestled in North Carolina's Great Smoky Mountains, says her camp offers referral discounts where the referring family receives 20 percent per referral off what the new camper would pay in tuition the first year. "Families can receive up to full tuition in referrals," she says. This referral can also be used for a sibling the first year; then the family receives 10 percent off with a sibling discount in subsequent years.
Families who send their kids to Camp Chatuga near Mountain Rest, S.C., can earn money toward tuition by hosting house parties. Sherry Moxley, marketing coordinator for the camp, says families can earn a $100 discount for hosting camp-interest parties for at least four families. Additionally, a discount of no less than $50 can be earned for any enrollment resulting from the parties.
Camp Hollymont begins early registration promotions as soon as the last camper leaves. "We offer a system of graduated, early registration discounts August through December, with the deepest discounts in August," Mashburn says. Parents can also participate in drawings and giveaways — including a Valentine's Day giveaway — for the chance to win a $150 credit toward the camper's account.
Some families also encourage their kids to chip in. "My kids traditionally ask for money for camp for their birthdays from grandparents, aunts and uncles," Foley says.
Elaine Brinkley, CEO of Camp Fire Georgia that oversees Camp Toccoa in Toccoa, Ga., encourages parents to explore payment options and then speak with the camp director if there isn't one that matches your budget. "We are in the youth-development business because we care about kids," Brinkley says. "Most camp directors are willing to work with you."
While the monetary commitment can be daunting, with some planning and research, camp can be a valuable experience any family can enjoy. "Camp is a gift that lasts longer than a day, doesn't break, and enriches the camper's life both in the short and long term," Mashburn says.
---
Courtney McLaughlin is a Charlotte native, freelance writer and mom to a wonderful 9-year-old daughter who loves camp.
---
SEE ALSO: 450+ Charlotte Summer Camps