Making an Impact, One Bracelet at a Time
A Charlotte teen's poem inspired this bracelet that is creating a ripple effect of impact.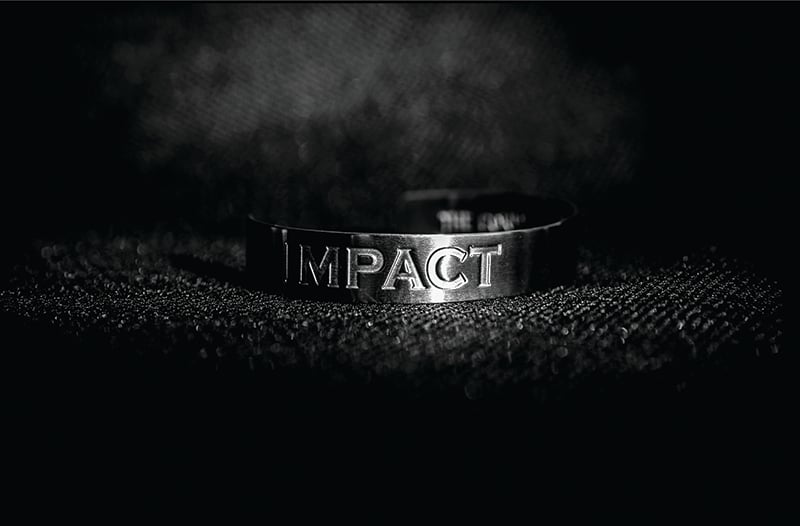 Playing for Others teen Lucy Murrey wowed audiences when she delivered her slam poetry piece titled "Impact" at the organization's HeARTbeat performance in spring 2015. Written to honor the Women's Impact Fund, the poem is the inspiration behind the IMPACT Bracelet created by the Playing for Others organization.
The bracelet is inscribed with the word IMPACT on the outside, and the phrase "The connection between your life and the lives you can change" on the inside, a line taken from Lucy's poem. Bracelet wearers are sharing videos on social media about how they make a difference in their communities, creating a ripple effect of impact, says Jen Band, founder and executive director of Playing for Others.
Crafted in Charlotte, a brushed steel bracelet costs $25, and polished steel bracelet costs $30, and can be purchased online at playingforothers.org/impact. All proceeds go to Playing for Others scholarships and its year-round program for teens.
Playing for Others engages teens through creativity, leadership, arts and service. Beginning March 11, Charlotte-area rising eighth graders to rising seniors interested in Playing for Others can apply for the 2016-17 season at playingforothers.org.
---
Hear Lucy's Poem: Join us at Mom Matters March 4 to hear Jen Band talk about how you can help your child build confidence and self-esteem. Lucy Murrey will also be there to do a reading of her popular poem, "Impact."