Making a Disney Trip Truly Magical
Five tips for getting the most out of your time and money.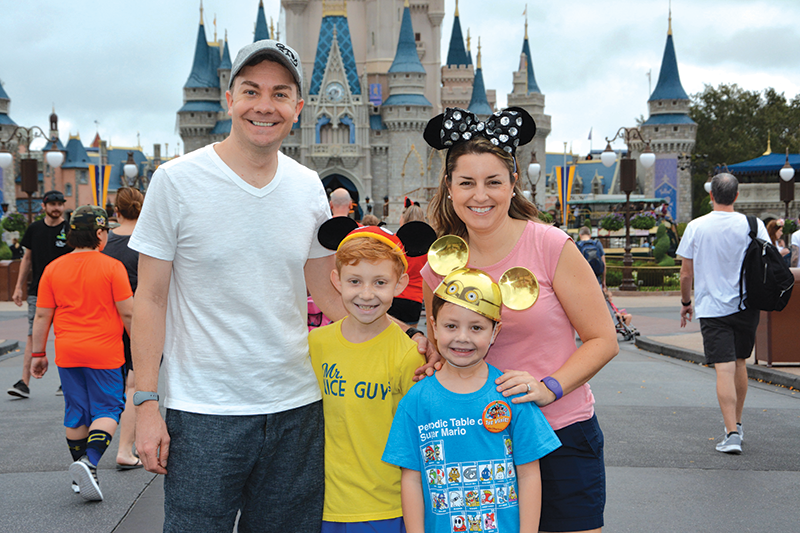 Family trips can be as stressful as they are fun. It's a good idea to do a bit of planning beforehand, thereby allowing for more frivolity when you finally arrive. In January, my wife Kristen and I took our boys, ages 6 and 9, on our first-ever family trip to Disney World. We were there for three days. Here are our five tips for getting the most out of your time and money.
Stay at a Disney-operated hotel. There are two big reasons to do this. First, it's easy to get transportation to and from your hotel. You don't need to spend a ton of money either. We stayed at one of the "value" resorts because the only time spent in our room was sleeping and showering. It's no frills but had everything we needed and the staff was phenomenal. The bigger reason, however, to stay on property is the earlier access to FastPass, which allows you to skip the lines on the most popular rides. Speaking of FastPasses …
Book your FastPasses early. If staying at a Disney hotel, you can book three FastPasses per day, starting 60 days before your trip. Everyone else who has paid for park tickets can book FastPasses starting 30 days out. We booked as soon as allowed through our MyDisney account. We used the FastPasses for the rides with the longest wait times, including Space Mountain, the Seven Dwarfs Mine Train, Avatar Flight of Passage, Expedition Everest, and Rock 'n' Roller Coaster. Some of these rides had wait times of three to four hours at peak times without a FastPass. Waiting five to seven minutes for the most popular rides is a much better way to take advantage of your time at the parks.
Get a Disney meal plan. We chose a meal plan that covered two quick-service meals and two snacks per day, per person. You don't receive table service, but if you're OK with ordering in a cafeteria-style line, it's worth it. Kid staples like pizza, cheeseburgers and chicken nuggets are available at quick-service restaurants throughout the park, while adults can enjoy flank steak, roasted chicken and salads.
We did purchase one table-service meal: the Fantasmic! Dining Package. We received an entrée, drink and dessert, along with VIP seating for Fantasmic!, a water and fireworks show at Hollywood Studios that stars all the major Disney characters.
Be sure to use all of your snacks. Looking back, we didn't use enough of them on the first two days, so we ended up going a little crazy on our last day and still had leftover credits, which we used to buy snacks for the drive home.
Sign up for Star Wars Jedi Training. This was one of the most incredible experiences for our boys. Children between 4 and 12 years old can take part in the free Jedi Training: Trials of the Temple show at Hollywood Studios. It is first-come, first-served, so get to the park before it opens and run to the Indiana Jones Outpost to sign up. Your kids get to wield lightsabers against Darth Vader or Kylo Ren in front of a live audience. We got some of the most epic pictures from this experience. Speaking of that …
Purchase a Disney Memory Maker PhotoPass Package. If you are on your first visit or if you have younger kids who want pictures with characters, get the package. We have more than 200 professional photographs in front of iconic park locations, character interactions, as well as pictures and video from some of the most popular rides.
---
Derek James is a host of WCCB News Rising. He and his wife live in Charlotte with their two sons who are ages 9 and 6.