Make-Your-Own Pizza Pie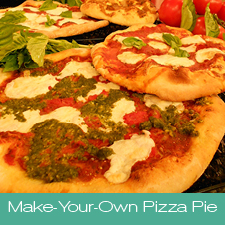 Ingredients:
Pizza dough
Quick tomato sauce
Fresh mozzarella cheese
Your choice of any fresh local veggies, sliced thin; or shredded proteins, such as chicken, beef or pork, cooked before using
Shaved Parmesan cheese to finish
Directions:
Cut off a large orange-sized piece of dough. With lightly floured hands, quickly shape the dough into a ball.
Roll out into a flat round – or any other shape that you would like to make for your pizza.
Place your round of dough onto a parchment paper-lined baking sheet. Top the dough with tomato sauce and any other toppings and cheese that you might like.
Bake in a preheated 475-degree oven for 8 to 10 minutes.
Top hot pizza with a grating of real Parmesan cheese just before serving.