Make-Your-Own Doughnuts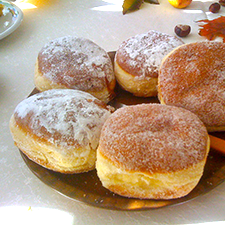 After several years of enjoying the national cupcake craze, this food writer is convinced that doughnuts are going to be the next big sweet thing. Put your kids ahead of the national culinary curve and start making easy-as-pie doughnuts with them for breakfast, after-school snacks or a fun family dessert.
This recipe is for your basic doughnut and doughnut hole, but for a tasty variation on the theme, fry the biscuits whole and then use a pastry bag with a open tip to fill the doughnuts with your favorite cream fillings or jams or jelly – dust the filled doughnuts with powdered sugar and you're off to a sweet start or finish to the day.
Ingredients
1 roll organic Immaculate Brand Buttermilk Biscuits
3 cups canola oil
Your choice or toppings: cinnamon and sugar, honey powder, icing, sprinkles, powdered sugar
1. Separate the biscuits and place them on your work surface, patting them down ever so slightly.
2. Use a small round cookie cutter to cut the hole in the center of each biscuit to form eight doughnuts and eight doughnut holes.
3. Heat the oil in a shallow sauté pan. Place a wooden spoon in the pan of oil and when little bubbles form around the spoon you'll know the oil is hot enough.
4. Take the spoon out of the oil and add the doughnuts and doughnut holes a few at a time, taking care not to overcrowd the pan.
5. Allow the doughnuts to fry one to two minutes and then turn them over in the oil. The first batch will take longer to brown than your second or third batches because the oil will be hotter.
6. When you are done frying, make sure the burner is off and remove the pan from the burner and allow it to cool.
7. Once the doughnuts are browned on both sides, remove them to a cake cooling rack, placed over several thicknesses of paper toweling.
8. Dust the hot doughnuts with powdered sugar, cinnamon and sugar, or cocoa and sugar, or allow doughnuts to cool before icing with your favorite icing and then dip in chocolate or colored sprinkles.
Bonus Tip: For a fun Halloween-themed doughnut. Fry the biscuits whole, then fill with your favorite pumpkin pie filling. Frost the cooled doughnuts with orange icing and use mini-chocolate chips or chocolate sprinkles to make a funny jack-o'-lantern face on the top of the doughnut.
Heidi Billotto is a culinary expert who hosts cooking classes in Charlotte. Read more from her at heidibillottofood.com.