Make a M'Omelet for Mother's Day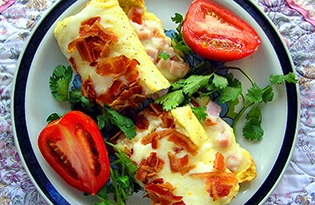 Mom – print this out and put it in a place where Dad and the kids will see it – then, snuggle in and be prepared for a fabulous Sunday breakfast in bed on your special day. (Be sure to act surprised!)
Easy Omelet
Ingredients:
Two or three local or organic eggs
Salt and pepper
2 tablespoons finely minced fresh herbs, like parsley, thyme or tarragon if you'd like
1 tablespoon butter
Mom's favorite fillings: ham and cheese; cream cheese, avocado and salsa; tomatoes, mozzarella and basil; or turkey and cheese.
1. Beat the eggs and seasonings with a fork in a mixing bowl for 20 to 30 seconds until the whites and yolks are just blended.
2. Place the butter in a small nonstick frying pan and carefully set over high heat. As the butter melts, tilt the pan in all directions to coat the sides. When the butter is all melted it is time to pour in the eggs.
3. Using the flat side of a fork against the bottom of the pan, stir the eggs quickly to beat in air, then gently pat and spread them all over the bottom of the pan as they thicken. When they are just cooked, add your choice of filling to the pan. Put the filling on top of the eggs on the side that is opposite the handle of the pan.
4. Then ask Dad or another adult to help you lift the handle of the pan to tilt it slightly. Use a fork to scoop the eggs beside the handle of the pan up and over the side with the filling. Still holding the pan tilted over the heat, run your fork around the lip of the pan under the far edge of the omelet to be sure it has not adhered to the pan.
5. Hold the pan tilted over heat for one or two seconds to brown the bottom of the omelet very lightly, but not too long or the eggs will overcook.
6. Now for the fun part – Place the pan back flat on the burner. Grasp the handle of your pan from underneath and flip the omelet over and out onto your plate.
TA-DA! You did it. Now make another one for you and put the plates on a serving tray with a small vase of flowers and some fresh fruit on the side. Take it to Mom to enjoy a Mother's Day breakfast in bed together.
Heidi Billotto is a culinary expert who hosts cooking classes in Charlotte.
> More Mother's Day Crafts + RecipesÂ