Magnet Schools Explained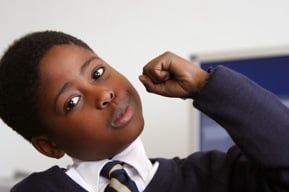 Peek around a classroom door at Northwest School of the Arts and see a young dancer perfect her steps. Drop into a classroom at the Smith Language Academy and hear kindergartners receiving classroom instructions in Chinese. Stroll by an open door at Randolph Middle School and catch the sounds of students practicing the Socratic method of inquiry.
These unique educational paths – and many others – are part of the wide-ranging magnet programs in Charlotte-Mecklenburg Schools. There are 15 different magnet programs available in 50 schools and they run the gamut from military strategies to musical skills.
And, if you're interested in exploring a magnet program for your child, this is the time to do it. The magnet application period runs from Jan. 2 through Jan. 31. To help parents make an informed choice for their children, here are some facts about the district's many magnet choices.
Next year, a new Military and Global Leadership Academy will open at Marie G. Davis, expanding our rich and rigorous magnet-school program even more. It will offer students a specialized opportunity: the chance to learn in an environment focused on leadership and global perspectives. This program is not a boot camp – it is a leadership institute for students who want to learn how to be an effective team member.
Magnet programs at CMS can be divided into two broad types: Programs such as the new one at Marie G. Davis that focus on particular subjects or subject areas, and programs that offer an alternative approach to instruction.
All of our schools, magnet and otherwise, teach the North Carolina Standard Course of Study, which means that all children in the state get the same basic education. So, enrolling in a magnet program doesn't mean your child will miss anything. But it does mean that a magnet-school student can have an enhanced education, either through the academic method used or the depth of study provided for a particular subject.
Alternative instructional strategies offered at CMS magnet schools include Montessori, Paideia, Traditional, Open, Accelerated Learning and Early College, Learning Immersion and Talent Development. In addition, CMS has the International Baccalaureate program. This globally recognized and rigorous course of study is available at elementary, middle and high schools.
Alternative instructional strategies such as Montessori and Paideia help children become engaged in learning. Some of our schools have the Traditional approach for children who thrive in a structured environment; others such as Learning Immersion and Early College provide intensive and advanced educational opportunities.
The second type of program in our magnet schools focuses on a particular subject or area. Areas of focus available to CMS students in our magnet schools include Math, Science and Environmental Studies; Leadership and Global Economics; Communication Arts; Visual and Performing Arts; Technology, and World Languages.
Our magnet programs reflect the diversity that is one of this district's greatest strengths. We offer more magnet programs than many districts that are larger. Whatever your child's interests are, I urge you to take time to visit our Magnet School page to learn more.
If you decide that a magnet program will fit your child's needs, you will be able to submit an online application during January. Current CMS students will bring application information home from school in the first week of January. Students new to CMS must be pre-enrolled by Dec. 14 in order to receive application information in the mail during the first week of January.
The best way for you as a parent to learn about magnet programs is to visit a magnet school. Or you can attend one of our regional magnet fairs, which run during the month of January. Details on the fairs are available on the Magnet School page of our Web site.
We want every child to be eager to come to school and learn, and the specialized learning and instruction available through our magnet programs could be the way to engage your child in learning. Our rich, diverse range of educational programs can help your child soar academically and socially – and become a lifelong learner.
Visit www.cms.k12.nc.us or call the Magnet Office at (980) 343-5030 to learn more about the many exciting opportunities at our magnet schools.
Dr. Peter C. Gorman is the superintendent of Charlotte-Mecklenburg Schools and father of a fourth-grader.