Local Parents Share Their Favorite Holiday Traditions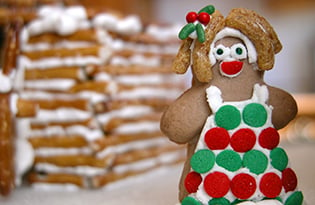 We received so many great comments in Day 1 of our 12 Days of Giveaways that we couldn't help but share some of our favorites. Read on to find out how local parents answered the question, "What is your family's favorite holiday tradition?" 

We are just starting traditions as we have two young children.  So far, our favorite has been going out past the kids' bedtime and driving around looking at Christmas lights while singing Christmas carols. So sweet. 
Jennifer Turner
We celebrate Baby Jesus' birthday as a large family on Christmas Eve. We also go to Billy Graham library and Wonderland at Blacklion.
Jessica McMasters

Our tradition is to let our kids camp out in our bedroom every weekend at least one night from Dec. 1st until the 24th. We watch Christmas movies and get in our PJs on those nights. Of course mom and dad sacrifice personal time for a month, but it is so worth the memories.
Ulunda Baker
A tradition that has stood the test of time in our family is decorating gingerbread houses. My kids are 20, 15, 13 and 8 and it's always something they all can enjoy!
Dawn Sorrentino

Our favorite Christmas Eve tradition is to go to Christmas Eve service and then go home and unwrap a Christmas present, which is always new pajamas! Then we eat breakfast for dinner and go to sleep.
Jennifer Pasquale
My family's favorite holiday tradition is decorating the tree together and remembering moments past Holidays. As we gather in the living room around the tree, we sit and laugh, talk and share stories and photos for hours. This is something I always look foreword to because it brings my family close together and helps us to remember our history.
Johnette Woods-Davis
I give the children matching pj's. They open them on Christmas Eve. We hop in the car and drive around looking at Christmas lights wearing the pj's. When they wake up Christmas morning the matching pj's look adorable in photos opening gifts.
Rebecca Maupin
Cutting a Christmas tree at my uncle's farm.
Catherine Crigler
While unwrapping our presents Christmas morning we do not clean up any wrapping paper until after we get a picture of the whole family laying in all the mess 🙂 Which is hard for my husband since he is a total neat freak!
Lindsay K. Gryziec
We love going to see all the lights at the speedway. We go with our kiddos and try to take some of our neighbors kids and our friends. We love the look on their little faces.
Telma C.
Watching Polar Express with my family on Christmas Eve.
Melissa Congdon
We love sitting around the tree with the fire lit reading "The Night Before Christmas." We have done this every year since our first child was born. Our oldest is now 10 and she reads the book to all of us! Over the past couple years we have made it so the 12 days of Christmas each bring a new book to open and we take turns reading those too!
Sarah Browning
Our family tradition consists of driving to McAdenville to look at the Christmas Lights and getting hot cocoa at Starbucks after.
Erica Tate
Baking for friends and family.
Lori Fleming
We drive around in the evening to look at Christmas lights and decorations. This year we are going to the speedway for the first time.
Janel Webb
Creating an ornament each day to hang on our advent tree.
Donnie Moore
Ever since I was a little girl my mom and I used to make a yearly ornament and give them out with presents every year. I have started doing the same thing with my son. Our tree is full of ornaments from when I was young as well as his.
Noel Buresch
My daughter was born on Christmas day, so Christmas eve is a big birthday dinner and celebration!
Kristi Crosby
Giving my children a new ornament every year … one that reflects something special that happened during the year. Its been so fun re-discovering previous years ornaments as we decorate the tree!
Diane
We love our family get togethers on Christmas Eve and on Christmas morning. We have so much fun we hate for it to end. This year we have a new (only 5 days old) baby girl joining us! Also singing Happy Birthday to Jesus with a small cupcake and candle.
Trish Tucker
Watching How the Grinch Stole Christmas — both the cartoon from my childhood followed by the new one with Jim Carey. We know both of them by heart.
Schan D.
Keep 'em coming! Which holiday tradition does your family most enjoy? Share with us in the comments field below.