LILY BAKES: Cake Pops
The latest from our resident kid baker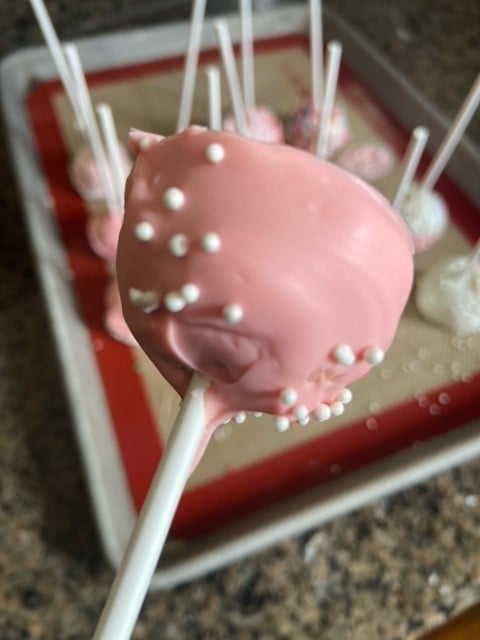 Lily Barnes is our 11-year-old resident kid baker. Each month she shares an original recipe that kids can make at home with their parents, plus a few behind-the-scenes tips and tricks to make your treat extra special. Here is Lily's recipe for Cake Pops:
CAKE POPS
I decided to do cake pops this month because I was trying to find a useful way to use extra cake that I had, and felt like making cake pops was a fun way to make a tiny dessert. I liked decorating each one differently. I think others will enjoy making this because it is easy to customize and it's a simple recipe to follow.—Lily
INGREDIENTS
Frosting:
6 oz butter softened
1½ cups powdered sugar
2½ tablespoons heavy whipping cream
½ teaspoon vanilla extract
Cake:
1¾ cups self-rising flour
¾ cup granulated white sugar
¼ cup vegetable oil
1 cup water
INSTRUCTIONS
Frosting:
Add all ingredients to the mixing bowl of a mixer.

Start on low then scrape and beat on high for about 1 minute until smooth.
Cake:
Preheat oven to 350°F. Spray an 8×8 inch cake pan with cooking spray.

In a bowl, whisk the flour and sugar together. Mix until combined.

Add in oil and water. Then mix until smith and fully mixed together.

Pour cake batter into the cake pan. Bake for about 30 minutes or a toothpick comes out clean when poked in the center.
Cake Pops Assembly:
To assemble cake pops you will need lollipop sticks and candy melts, all available at Michael's or any baking supply store.

Start with crumbling the cake and adding in half of the cake frosting. Fully mix and combine frosting as needed based on the firmness of your cake ball. Roll out quarter size balls and lay on parchment paper or a silpat baking mat. You may need to refrigerate before dipping.

Melt the chips and gather your favorite add-ons like sprinkles, cookie crumbles, etc.

Dip the lollipop sticks in the melted chips and insert into cake balls. Place the cake ball into the chips and make sure they're fully covered and return to parchment/silpat. Add on sprinkles and whatever you would like. Let them set for about 10 minutes. Enjoy!