LILY BAKES: Almond Flour Cake
The latest from our resident kid baker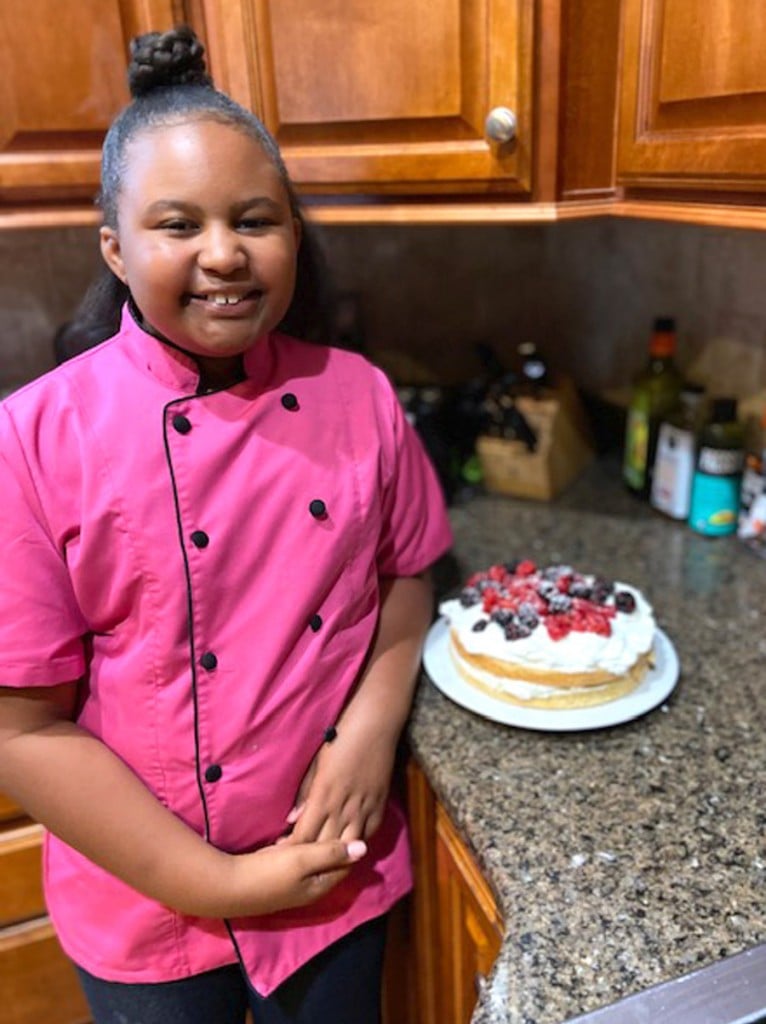 Lily Barnes is our 10-year-old resident kid baker. Each month she shares an original recipe that kids can make at home with their parents, plus a few behind-the-scenes tips and tricks to make your treat extra special. Here is Lily's recipe for Almond Flour Cake with whipped cream and fresh berries:
Almond Flour Cake with Whipped Cream and Fresh Berries
I wanted to make the almond cake because my doctor has been encouraging me to make a healthier recipe. I have been learning about different flour that I can use instead of all-purpose flour. Almond flour and coconut flour are great choices. I have used monk fruit sweetener instead of sugar too. I added fruit as a topping!—Lily
*Serving size 8-10
INGREDIENTS
Almond Flour Cake:
2 cup almond flour
¼ cup all purpose flour
6 large eggs, whites separated
½ cup monk fruit sweetener (white sugar replacement)
1½ tablespoons vanilla extract
Simple Syrup:
½ cup boiling water
½ cup monkfruit sweetener
Whipped Topping:
2 cups heavy cream
¾ cup Splenda
1 tablespoon vanilla extract
Tip: Chill mixing bowl in freezer ahead of time
DIRECTIONS
Almond Flour Cake:
In a bowl, mix two flours together and set aside.
In a separate bowl, separate egg yolk and whites. Set the whites aside
Add monkfruit sweetener to the yolk and using a mixer, whisk until combined and a pale yellow color
Add in vanilla extract
Combine yolk mixture with flour and set aside
In a mixer, whisk egg whites to a fluffy stiff peaks
Gently in batches, fold in the egg whites into the batter
Pour fully mixed batter into two greased cake pans and place into oven at 350 degrees for 20 minutes
You should be left with two cakes ready to be layered
Simple Syrup:
In small saucepan, bring water to a boil and add in monkfruit sweetener. Turn off once fully dissolved
Brush your finished cakes with simple syrup to keep cakes moist
Whipped Topping:
In a chilled mixing bowl, pour in two cups cold heavy cream and ¾ cups of Splenda, and vanilla extract
Using a hand mixer, blend on low gradually moving to high speed
Stop as soon as the cream stiffens, careful to not over whip
*Top each cake with the whipped cream and layer. You can top the cake with fresh fruit if your choice!