Lighting McQueen and Friends to Visit Charlotte
Nationwide "Road to the Races" Tour Rolls into Town May 19-20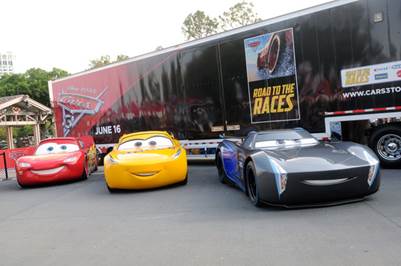 The release of DisneyPixar's "Cars 3" is a month away, and to amp up the excitement, a free special fan event, "Road to the Races," will roll into the Charlotte Motor Speedway on May 19-20 from noon-5pm on both days.
A little about the upcoming film: Blindsided by a new generation of blazing-fast racers, the legendary Lightning McQueen (voice of Owen Wilson) is suddenly pushed out of the sport he loves. To get back in the game, he will need the help of an eager young race technician, Cruz Ramirez (voice of Cristela Alonzo), with her own plan to win, plus inspiration from the late Fabulous Hudson Hornet and a few unexpected turns. Proving that #95 isn't through yet will test the heart of a champion on Piston Cup Racing's biggest stage.
At "Road to the Races," fans of Lightning McQueen can catch a sneak peek at the new film in the Cinetransformer Mobile Movie Theater, take photos with life-size character cars, learn more about the science and history of NASCAR racing, visit the Mattel interactive play area, sample fruit and vegetable smoothies courtesy of Dole, and much more.
This event is free and open to the public. A limited amount of "race lane" tickets are available at each stop allowing guests to skip lines for priority entry. For more information, visit movies.disney.com/cars-3-tour. Charlotte Motor Speedway, 5555 Concord Speedway S., Concord.
Charlotte joins a roster of cities on this nationwide tour, including Boston, Miami, Dallas, Greensboro and Los Angeles, and will wrap up on June 25.