Life or Death: Teen Suicide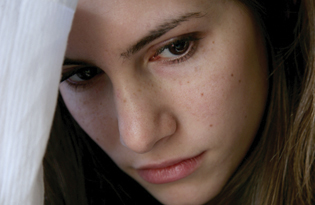 His son Tom gave up everything and wouldn't leave his darkened room, according to Gary Nelson, a pastoral counselor in West Virginia. "I was aware that suicide driven by mental illness is a top killer of young people," says Nelson, "We were terrified we could lose him."
Some 2 million U.S. adolescents attempt suicide each year and almost 700,000 receive medical attention for it, according to the National Alliance on Mental Illness. In 2004, the Centers for Disease Control and Prevention reported that suicide was the third-leading cause of death among 10- to 24-year-olds.
Karen Stough, a family counselor with a program for struggling teens in Birmingham, Ala., says, "The (suicide) rate is rising in adolescents, and it may be due to biochemical reasons, as the brain is not fully mature until the early 20s. It may be due to hormones, and drugs can throw brain chemistry off. Or, it could be related to the stresses of the everyday world."
Risk Factors
Determining which child may be at risk of committing suicide is very complex, because many of the risk factors also are typical teen behaviors. "Every teen gets a little upset or angry now and then, but when you start to see a pattern of holes punched in walls or a hair-trigger temper over a period of time, then you see this is not just a rebellious teen," says Stough.
Some risk factors include:
• Poor problem-solving skills
• Substance abuse
• History of accidents, self-destructive behaviors
• Sexuality issues/fears
• Bullying
• Low self-esteem
• Family history of suicide
• Easy access to lethal methods, especially guns
Other factors could include the breakup of a relationship, failing a big exam or other major disappointment.
And, according to the National Alliance on Mental Illness, suicide is thought by some to have a genetic component. Research has shown strong evidence that mental and substance-related disorders, which commonly affect those who end up committing suicide, run in families.
Danger Signs
"The three baseballs Tom hurled through the downstairs hallway wall were the first in a long series of his actions and reactions totally baffling to (my wife) Patti and me," Nelson writes in "A Relentless Hope: Surviving the Storm of Teen Depression," a book about his family's long, dark journey. "Never had we witnessed such behavior in our home. Never had disagreements or arguments been punctuated by acts of violence. Yet, there they were, the three round holes in the wall, marking the end of a discussion and the beginning of a nightmare."
Stough says parents should be very concerned if their teen has a complete change in peers. "If they have new friends you don't recognize, and your kid gets defensive when you ask who they are, that is a huge sign." Other danger signs include:
• Extreme personality changes
• Loss of interest in activities that used to be enjoyable
• Significant loss or gain in appetite
• Difficulty falling asleep or wanting to sleep all day
• Fatigue or loss of energy
• Feelings of worthlessness or guilt
• Withdrawal from family and friends.
• Neglect of personal appearance or hygiene
• Sadness, irritability or indifference
• Having trouble concentrating
• Extreme anxiety or panic
• Drug or alcohol use or abuse
• Aggressive, destructive or defiant behavior
• Poor school performance
• Hallucinations or unusual beliefs
Nelson says, "Parents should be aware of these kinds of issues and as early as possible seek help. If you start to see your child struggling, and there's (no specific cause) they can put their finger on, or you see a cluster of symptoms, it's the same as with things like cancer. Early intervention is better. Get help before the teen has a chance to get into things such as drugs and alcohol that can cause lots of complications."
Verbal and Nonverbal Clues
If parents notice their child has changed, the first thing they must do is try to open up a line of communication, where the teen feels comfortable talking. Make it clear you care and emphasize your willingness to listen. Also, be sure to take all talk of suicide seriously. Don't assume those who talk about killing themselves won't really do it. Stough adds, "Talk to the child at a place and time that's not embarrassing. Say something like, 'I've been noticing some changes, and I'm concerned. What's going on?' Ask if they're thinking of hurting themselves, and find out if they have a plan. Try to help them see that a temporary situation doesn't need permanent solution."
She also cautions, "Parents should never ignore it if their child says, 'My life is so hard, and I just want to die.'"
And just because a teen is in treatment or says he's feeling better does not mean the threat has passed. "A severely depressed child will suddenly begin to give away favorite possessions, and that is a huge sign of suicide," Stough explains. "They think, 'I'll give these to my friends so they can enjoy them because I'm not going to be here.'"
Getting Help for Struggling Teens
Parents should seek help immediately if they feel their child is struggling. "Get help, get information, get education about what might be going on. Seek out a professional," says Gary Nelson, a father whose son tried to commit suicide. "A professional can help parents understand their child differently and can give teens coping skills."
With some 2 million teens in the United States attempting to kill themselves each year, the National Alliance on Mental Illness advises parents on its Web site, "If the threat is immediate, if loved one tells you he or she is going to commit suicide, you must act immediately. Don't leave the person alone, and don't try to argue."
If parents believe the risk of suicide is severe, they should call 911 or take their child to the nearest psychiatric facility or hospital emergency room.
Local Resources for Teens in Crisis
National Center for Substance Abuse Treatment
800-662-HELP (4357)
www.csat.samhsa.gov
National Hopeline Network
800-SUICIDE (784-2433)
www.hopeline.com
Access Family Services
704-521-4977
www.accessfamilyservices.com
Comprehensive mental health services for children, teens and families in crisis.
Al-Anon/Alateen
704-523-1159
www.charlottealanon.org
A 12-step support and fellowship group for family members and friends of alcoholics or those in recovery.
The Relatives Crisis Center for Youth
704-366-8712
www.alexanderyouthnetwork.org/programs/relatives.html
A coed, nine-bed emergency shelter that serves runaway, homeless and other youth in crisis ages 7-17 at no cost.
Tiffani Hill-Patterson is an Alabama-based freelance writer and mother. Contact her at patterson1723@mac.com or www.tiffanihillpatterson.com.