Life as a Blue Man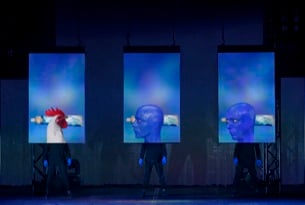 The Blue Man Group performs at the Blumenthal Theater April 19-24. We caught up with Blue Man General Judd, who is from Charlotte, and for a quick Q&A about what it's like to be a part of the innovative group.

How often and how do you practice?
During the rehearsal process, before you become a Blue Man, you practice every day for hours and hours to hone all your Blue Man skills. Once you become a  Blue Man, you practice everyday at sound check before each show, we play a few songs from the show, and throw and catch. Once you've seen the show you'll know what I mean by that. And we drum together with the band back stage to get connected before we hit the stage because the band is such a big part of the show.
How long does it take to get all the makeup on? Is it hard to get off?
Takes about 30 minutes for the entire process. The most time spent is on waiting for the glue to dry on the bald caps. You don't have to be bald to be a Blue Man. The Blue makeup is very easy to remove. It wipes right off. The hard part is removing the bald cap.
Is it athletically or physically challenging to be part of the show?
You have to do some sort of exercise outside of the show to stay fit. I go to the gym and started taking Bikram Yoga.
What is the best, most fun, part of being in the show?
Being involved with such creative and talented family of people, and being allowed to share such a fun experience each night with a different audience. Plus being Blue without feeling blue, and having a job my kids love.
The critically acclaimed Blue Man Group is best known for multimedia performances that feature three bald and blue characters who take the audience on a journey that is funny, intelligent and visually stunning. A live band, whose haunting tribal rhythms help drive the show to its climax, accompanies the Blue Men.
For more details about the Blue Man Group, go to www.blueman.com.