Levine Museum of the New South Honors the Legacy of Dr. Martin Luther King, Jr.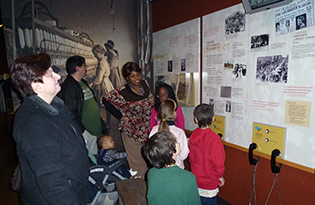 "Injustice anywhere is a threat to justice everywhere." These words, spoken by Dr. Martin Luther King Jr., set the tone for the Levine Museum of the New South's Dr. Martin Luther King, Jr. Legacy Celebration on Jan. 18 and 19. For two days, the free event allows families to explore exhibits, participate in children's crafts and view films that portray and expand upon the civil rights era.
Expect performances by the McCrorey YMCA Senior Drummers, St. Paul Baptist Church, One Voice Chorus and other organizations. Films like "Mighty Times: The Children's March" will play continuously throughout the event, and give younger students a first-hand viewing experience at what it was like to live during the civil rights era. Visitors can also participate in the interactive presentation called Music and Black Southern History that includes discussion about the correlation between the roots of black Southerners and the impact music had on the subculture.
In addition to its current exhibits, the museum will also open its recent traveling exhibit, Selma to Montgomery: March for the Right to Vote. This thought-provoking exhibit showcases 48 black and white images by Spider Martin, a seasoned photographer for Birmingham News, who ultimately helped shape and change the world. The exhibit also includes interpretative material that is easy for small children to understand.
For hands on learning, kids can make "Garment of Destiny" Yarn bracelets, "My American Dream" comic strips, or an illustration of what they learned from the celebration. Story time about African-American and civil rights history is also included in the program.
More than 4,000 community members are expected to attend the two-day event. Stop by the museum Sunday between noon and 4 p.m., and Monday between 10 a.m. and 4 p.m. Visit museumofthenewsouth.org for more information.