Let's Talk About This Elf on the Shelf and his Merrymaking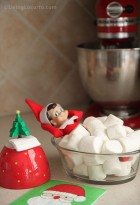 This year I caved. I gave in to "peer" pressure – that is pressure from my son, his friends and even his kindergarten class. Actually I gave into the pressure of a merry band of holiday marketers! This is the first year the Elf on the Shelf has arrived at our house. My son is 5. I had no interest in the Elf, and honestly still don't, but my son was anxiously awaiting on his arrival. His cousin was asking when his Elf would come. There was an Elf that popped into his kindergarten class. All his buddies on the bus are talking about their Elf arrivals. My son really was anticipating this Elf, and so it goes, I bought the Elf on the Shelf. 
Zoom is making his nightly trips to and from our house to the North Pole to report back to Santa, and my son for the first week was jumping up looking for Zoom (who has had four names now, including Bot, Pickles and Yoda). But this morning, he didn't even ponder where Zoom was. Sigh (actually I have stronger words in my head, but I'll spare them from this blog). Retail America does it again. A funny little elf doll captures the eyes of kids, kids talk, parents get rooked in and someone out there is making a lot of money. And apparently the Elf now has a reindeer to ride to and fro the North Pole, and you can buy a set of aviator clothes and other outfits from the Elf couture collection to dress up that sorry little sucker. NO, NO, NO! Stop the madness.
I'm not a complete Elf hater. It makes me smile to see my son light up when he does find the Elf, and he even had a dialogue with him about what he wanted Zoom to tell Santa. It was cute. As for our Elf being a merrymaker, mischievous, foolish Elf, no way. I've already popped up two mornings at 3 a.m. and remembered he hadn't made his nightly move. That means broken sleep for me. And no way do I have the time or inclination to create mischievous Zoom messes and then clean them up too. (Disclaimer: That is not Zoom in the picture with this blog because I have no idea where I'd find marshmallows hidden in the pantry at 3 a.m. when I remember to move him).
Overall, it's not that big of deal to move Zoom around each night, but it's just one more thing to add into an already busy, overloaded holiday, and one more lie (when did the knowledge of Santa "making his list and checking it twice" become not enough). I just prefer the old-fashioned Christmas without so much influence from commercials and retail mania, and the peer pressure of it all. Mommas who love the Elf on the Shelf and all his merrymaking, good for you, go with it, have fun making and cleaning up messes. But for those of you mommas and daddies who have not given into the peer pressure of that sneaky little Elf in a box that comes with a book you'll read once, stand your ground!