Let Me Run
Let Me Run program helps boys become confident men who can express themselves.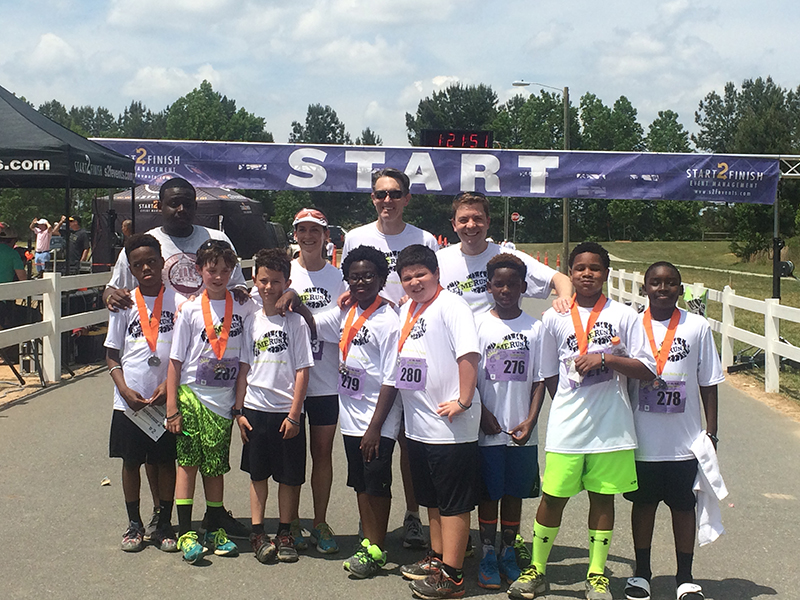 Back in the spring I saw on Twitter that my son's elementary school was looking for volunteers to coach a boys running group called Let Me Run. I started running when I was 9 or 10 — same age as the boys I'd be coaching. I continued to participate in track and cross-country in both middle and high school. I fondly look back on those teams and years. I emailed the parent who was organizing the team and signed up for the training certification. My wife's response was not one of enthusiasm or excitement. It was laughter. Lots of laughter. "When was the last time you ran anywhere? The only exercise you've gotten is mowing the grass over the last 15 years." I then had confirmation that my wife considered me to completely be out of shape. She forgets I ran the Thunder Road Half-Marathon in the early 2000s.
At the coaches' training, I learned about the Let Me Run mission to teach boys to be themselves and comfortable with who they are, build healthy relationships, and live an active lifestyle through running and other activities. One of things I was especially interested in is called "the boy code." It's the idea that boys should hide their emotions and vulnerabilities behind a macho mask; that boys should be boys, and aggression or fighting is just a norm. All are myths about boys, and Let Me Run helps the boys become confident men who can express themselves. That night I knew I wanted to be a head coach.
Let Me Run is a seven-week program that meets twice a week for an hour and 15 minutes before or after school. The typical practice includes stretching, push-ups and a one-and-a-half- to three-mile run. Practice wraps up with a lesson and activity on a variety of subjects including bullying, anger management, breaking the boy code, goal setting and nutrition. Within the first few weeks I saw a difference in the boys, and so did their parents. Quiet followers became confident leaders and the boys were coming together as a team. Boys who weren't close friends were by the end of our seven weeks together. I also learned that 9- and 10-year-olds are much more thoughtful than many give them credit.
Each season concludes with a 5K run and celebration. Our Springfest 5K Run was in Huntersville on a very hot May afternoon. We had set goal times for the run, but a combination of heat and a big hill quickly dashed those hopes. Nonetheless my team gave it their best. After eight of the boys finished, they noticed that two of their team members hadn't crossed the finish line. The boys wanted to find their teammates and finish with them so we could all do it together. Nothing brought a bigger smile to my face that day.
Let Me Run is always looking for good men and women to coach. There are two training sessions for coaching in August. Your spouse hopefully won't laugh like mine when you explain what you're doing. letmerun.org.