Lessons from the Throne
What I learned building an accessible bathroom.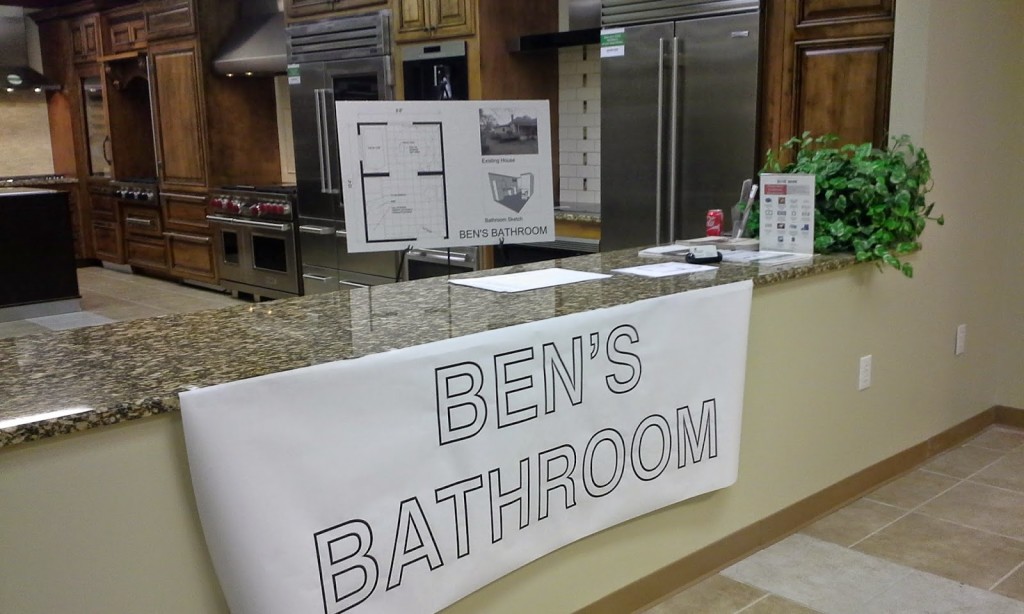 It was almost three years ago when I started the process to build an accessible bathroom for our house. This month, that bathroom was completed. It was a process, a longer story than anyone really wants to hear, so I will share (mostly) what I learned:
1. Get Outside Opinions for Design.
Originally, I had some crazy ideas for the bathroom. We needed a ramp desperately so I combined the bathroom and ramp project. My layout included an outside door in the bathroom leading to the ramp. To my husband's relief, an architect friend suggested a ramp coming off the side of our front porch. Within months, Love INC built the ramp with the help of Elevation Church.
Another place I almost made a big mistake was on the design. I was unsure about adding a roll-in shower since Ben loves to take baths. Thankfully, someone along the way insisted that a roll-in shower was necessary as Ben got older and larger. The current layout includes a tub and shower wet area – no shower curtain, glass doors or steps to impede a wheelchair.
2. Perseverance & Patience.
We tried many avenues to build this bathroom. I had saved, what I thought was a considerable amount of money, for the bathroom. It was not nearly enough to cover the quotes we received.
Ben is a recipient of the Innovations Waiver, a state-wide program for people with special needs. With the waiver, he does have a one time fund for home modifications. Unfortunately, our current and only bathroom in our 99 year old home, at under 40 square feet, could not accommodate any renovations that would help in our situation. We could not touch those funds.
Ben's case managers put me in touch with organizations that could possibly help us. We were pushed from one place to another. Finally we met with Rebuilding Together of Greater Charlotte. They brought on NARI – National Association of Remodeling Industry and the project took off running. It still took more than a year to line up materials, labor and the weather to get the project to the finish line.
3. We are all connected.
It took over 20 companies and organizations, at least 75 people and $50,000 in labor and materials to build this bathroom. From volunteers who came for the demolition of the deck to the carpenter who put in the threshold, we met great people. They showed up and said, "I am here to work on Ben's Bathroom."
Several people had a son or daughter with special needs or a close friend or family member with disabilities. For some, it was emotional for them to be a part of this project. For others with smaller businesses, it was a stretch to donate the labor for the project. Some knew my husband from when he was in the construction field and wanted to help us out. No matter their reason, they came to finish their part of the project.
4. Independence & Safety.
We knew we needed a bathroom because Ben was getting too large to move safely around the current bathroom. We were lifting him up from impossible angles and helping him in and out of the tub with no room to maneuver. Ben and his caregivers are much safer now. Ben can get in and out of the tub with assistance and we are not lifting him like we had to in the old bathroom.
Although safety was the number one reason for building the bathroom, we had no idea how much more independence Ben would achieve with an accessible bathroom. Now, he is using the toilet without the power struggle we dealt with in the old bathroom. He is standing at the counter and without prompting, helping with dressing. He washes his hands with assistance and turns the light out when we walk him out the door.
We are grateful for the kindness of all the people who contributed to this project. Thank you from us is not enough, but a smile from Ben goes a long way.
Attention Required
Easter Seals is hosting the Walk With Me event on Saturday, November 7, 2015 at Freedom Park. Program begins at 9am and walk starts at 10am. Walkers stroll around the lake at their own pace for 3.1 miles or less. The goal is to raise awareness about people with physical and intellectual disabilities and funds to support the services provided by Easter Seals.
See more resources for families with children with special needs in the Special Needs Directory.