Lend A Helping Hand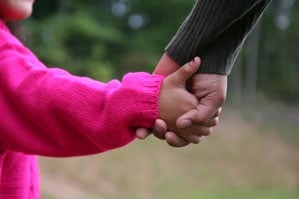 We all know it is better to give than to receive, but do our children? It is important to teach children at an early age that helping others is not only about giving money to charity, but also about the experience of actively lending a helping hand to someone in need.
"The holiday season is a time when we're acutely aware of helping others. It's colder and darker outside, and people's needs for warmth, light and safety are universal," says Dr. Barbara Thiede, a rabbinic student and the leader of Temple Or Olam in Cabarrus County. By age 5, says Thiede, children can learn "we're all connected and we're all responsible for our fellow human beings." It's important children grow up learning that they are an integral part of their community, she says. "The sooner this becomes part of their consciousness, the better citizens they will be."
Volunteering as a family should include conversations not only about what you're doing but also why you're doing it. Thiedes explains, "Being with people and doing a good deed leads you to want to do it more often." Children learn that giving feels good.
With Hanukkah and Christmas right around the corner, here are a variety of local volunteer opportunities for your family to help those less fortunate.
1. Serve a meal at Room in the Inn.
www.st-petersweb.org/outreach.html
Room in the Inn is run by the Urban Ministry Center and is offered at many local houses of worship throughout the Charlotte region. For example, St. Peter's Episcopal Church on West 7th Street in Charlotte provides food and a warm place to sleep for the homeless one night a week, once a week from November through March. Families can sign up to participate in RITI with their own church or at St. Peter's. Families with young children may want to consider helping prepare and serve a meal, offering to set up or clean up.
2. Trim a Christmas tree at Aldersgate.
www.aldersgateccrc.com
Spread the holiday cheer this season during the first week in December at Aldersgate, a home for disabled seniors in Charlotte. Join Christmas tree trimming parties, where your family can help decorate a tree with the residents and create life long memories. A tree, decorations and refreshments are provided, so all your family needs to bring is a lending hand and a listening ear. For more information contact Lori Furr at 704-532-7017 or e-mail lorif@aldersgateccrc.com.
3. Sort clothing for Crisis Assistance Ministry
www.crisisassistance.org
The Crisis Assistance Ministry is located in uptown Charlotte and aids those in need of emergency financial assistance and home goods. Families with children as young as 5 years old are able to volunteer in the Free Store and help organize donations. Sign up to sort, inspect and hang clothing, or restock the store. An hour's worth of processing provides one person with enough clothes for a year. For a list of volunteer opportunities, visit the Web site or call 704-371-3000.
4. Distribute food at Loaves and Fishes pantries.
www.loavesandfishes.com
This organization has been feeding the hungry in the Charlotte area through its 17 pantries since 1975. Consider how your family can help conduct a food drive, volunteer in a food pantry or work in the warehouse. Loaves and Fishes food pantries are located at churches throughout the area. Call 704-523-4333 or visit the Web site for current needs and pantry locations.
5. Wrap presents with Kids First of the Carolinas.
www.kidsfirstofthecarolinas.com
This small, grass-roots charity founded by two moms, Sharon Sanders and Wendy Tonetti, provides hundreds of local children with toys at their annual holiday party. Families also receive warm clothing and food. Bring the family on Saturday, Dec. 13, noon-10 p.m., at Sharon Presbyterian Church, 5201 Sharon Road, to help decorate for the party and wrap gifts. Drop in for an hour or stay for the long haul. Volunteers may bring gifts, winter clothing (items for children ages 10-13 needed) or nonperishable food items. E-mail makingkidsfirst@yahoo.com or call 704-995-5679 for more information.