Lemon Squares with Berries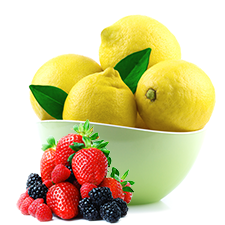 This summer, try this easy citrus and berry dessert. For the best flavor, use local blueberries, blackberries and raspberries from your local farmers markets. These make a great alternative to brownies.
INGREDIENTS:
1 cup sifted all-purpose flour
1/4 cup powdered sugar
1/2 cup melted butter
1 cup sugar
1/2 teaspoon baking powder
2 eggs, beaten
2 tablespoons lemon juice
Zest of one lemon
Topping: Local blueberries, blackberries or raspberries, plus a sprig of fresh mint for each square
DIRECTIONS:
1. Combine flour and powdered sugar in a bowl and whisk the dry mix to break up any lumps.
2. Stir in the melted butter to make a dough.
3. Press the dough mixture across the bottom of a 8-by-8-inch pan lined with parchment paper. Preheat oven to 350 degrees. Bake for 20 minutes.
4. Meanwhile, combine the remaining ingredients except the berries. Pour over warm baked crust and return to the oven for 25 more minutes. Remove from oven. Cool to room temperature, then chill before cutting.
5. Serve each square topped with fresh berries and a sprig of fresh mint for a tasty summer dessert.