LEGOLAND: Everything Is Awesome!
Planning is key before heading to this popular Florida theme park.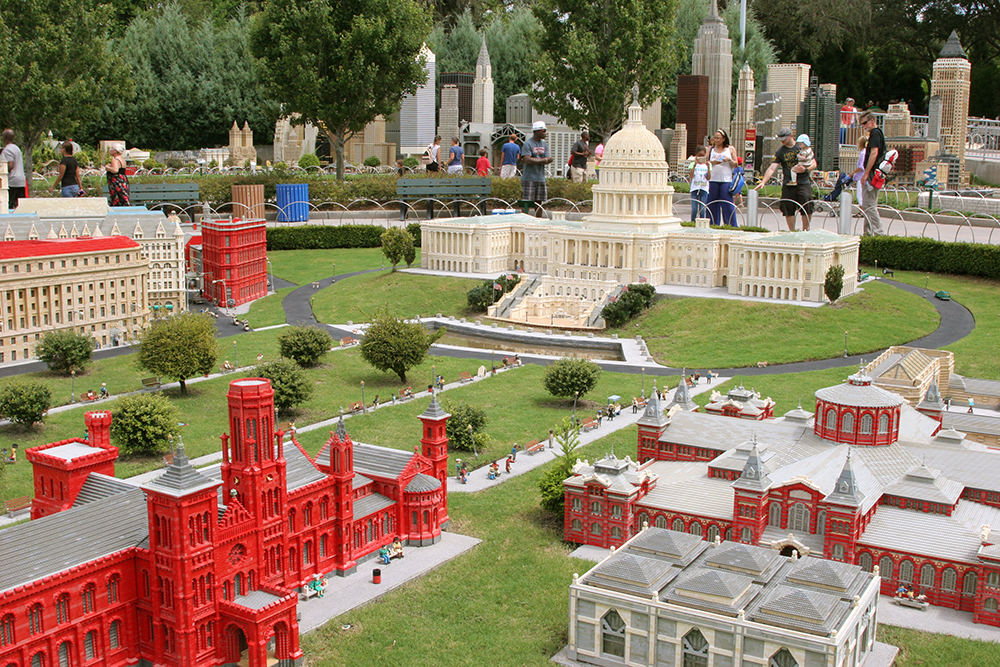 Although my childhood included great theme park memories, my husband and I opted for "freestyle" family excursions — until Daken, our Lego-addicted son, discovered Legoland. By definition, theme parks come with age-expirations … so we went. We had one of our best family getaways yet.
Legoland's Winter Haven, Florida, location is its largest resort worldwide and includes 150 acres of rides, shows, attractions, restaurants, shops and the former Cypress Gardens, which was sentimental to me because I'd visited the gardens as a child. Legoland is geared to ages 2-12. Our son is now 11, and because of his Lego-love, he wants to go again. We had a blast, reveling in his excitement and enjoying it ourselves, in part because we defined our expectations and planned ahead.
"Do your research," urges Legoland's public relations representative Brittany Williams, who advises would-be travelers to explore Legoland's website to determine priorities before ordering tickets. "Bring your kids into the decision-making," she suggests.
We did this with Daken, and it made all the difference in determining which attractions were most important to us — individually and collectively — and in knowing key information to maximize our enjoyment of the day.
We wanted to stay at Legoland Hotel onsite for a total immersion experience, but it was booked at the time we planned to travel, so we opted for the Hampton Inn in Winter Haven, a Legoland partner hotel. Its free, full breakfast and complimentary shuttle rides to and from the park saved us time and money.
We arrived in Winter Haven the night before, in time for a grown-up meal at a local favorite restaurant (accomplishing two of our usual eating-out goals). Harry's Old Place, which specializes in seafood and a full array of child-friendly dishes, offered a lakefront setting, casual atmosphere and mix of diners that made us feel like part of the town.
The next morning I felt fully prepared as we entered Legoland, which was like walking into a child's dream world. Because we had surveyed the website, we knew which lands to focus on, and Daken came prepared to trade mini-figures with employees, who wear mini-figures on badges. Once we checked showtimes, we had a full plan.
A crucial pretrip decision was whether to purchase a one- or two-day ticket. We chose the one-day option with the waterpark added to it. This worked fine because we had one child and unexpected, game-changing "exit tickets" — a small-scale version of Legoland Premium Play Bands, which allow you to skip the long lines and enter a ride via the exit line. (Each ride may only be entered once per hour.) We scored these surprise tickets from a shuttle driver simply by waiting for the next shuttle when ours filled up right before we stepped onto it. The exit tickets saved us precious wait-time, which is how we managed to do everything we wanted. For our next trip, we'll opt for two-day passes or buy the Premium Play Bands.
A rainstorm came at lunch, so we ate. While food options are plentiful and reasonably priced, you can bring your own food and drinks into the park. We dove into the deli-like Market Restaurant because it was nearest to us and we were still full from breakfast.
We marveled at Miniland USA — impressive Lego versions of major cities — and stopped in strategically placed shops. (How can you visit Legoland and not buy Legos?)
I'd only change two things: I should have chosen a bigger backpack to allow room for more stuff, and we should have planned an extra day in Winter Haven to explore the area — specifically, Fodor's top-10-rated Safari Wilderness Ranch and Bok Tower Gardens, which includes a 2.7-acre interactive children's garden.
But at day's end, we mailed postcards within Legoland to the grandparents and ourselves, which arrived a week later and made us smile at our short, powerful declaration: Everything was awesome!
To plan your excursion, visit legoland.com and visitcentralflorida.org.
---
Emily-Sarah Lineback is a Triad-based writer and editor.