Learning to the Beat at Hip-Hop University
Hip-Hop University helps students boost skills and overcome challenges.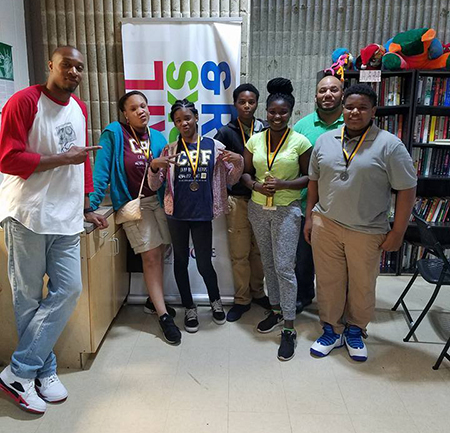 Great teachers know the first step in inspiring students is connecting with them. That's exactly what public school teachers Albert Carter and Reginald LaRoche have done with Hip-Hop University, an academic skills and mentoring program that uses hip-hop music to build knowledge and motivate students.
Now in its third year, the Charlotte-based nonprofit is grooving in multiple cities, including Charlotte, Atlanta and Philadelphia, and by the end of 2016 plans to be active in St. Louis, and Abu Dhabi too. The organization uses the music and culture of hip-hop as a stepping stone to reinforce math, English and other skills, as well as introduce students to different career options and encourage positive social engagement.
Carter, a seventh-grade math teacher at Bruns Academy, describes these middle- and high-school participants as "at-opportunity" — that is, young people who can overcome adversity and be successful when given the support they need. The program serves as a powerful counterweight to the challenges some of the students confront in their own lives, including poverty, homelessness, single-parent homes, or a family member's substance abuse addiction.
Hip-Hop University's innovative curriculum reinforces academic skills in a variety of ways. In English, students analyze music lyrics and discuss their meaning. Unknown phrases are explored then used by students in their own raps. The organization also produces an online magazine dedicated to exploring hip-hop and mentoring. Some students help staff create interview questions and write album reviews.
In social studies, students learn how hip-hop is a distinct culture with its own vocabulary, fashion, dance traditions and other unique forms of expression. They also study the historical context of artistic movements like graffiti and how it propelled artists such as Jean-Michel Basquiat to worldwide fame.
Students also study sample artist contracts and learn about their financial implications. They learn how math is used by artists in various ways, such as MCs — who must count bars to stay in sync and determine how many words can be used per measure in a rap — and DJs, who break down the beats per minute to find the least common denominator and accurately pair songs while using turntables or scratching records.
While students build their own performance repertoire, they are encouraged to explore how their passions can be transformed into career opportunities and developed into other skills — from self-confidence to digital literacy — so that they can be leaders in their communities.
---
"You don't want to sell them a dream," Carter says. That's why in addition to bringing in artists, such as up-and-coming rappers Deniro Farrar and Baby Jesus, Hip-Hop University enlists non-performing industry professionals to mentor students and speak about the many types of career opportunities tied to hip-hop or the entertainment world. Students learn about the skills and education needed for jobs in fields like production, management or law, as well as their earning potential. Alongside mentors, students explore other possible career paths too and consider the implications of their own choices related to career, life and family.
Hip-Hop University's 96-page curriculum is broken into 14 distinct lessons that can be adapted to fit the needs of any after-school or summer enrichment program. The organization works with local volunteers and partners with various organizations to reach more students and enlist qualified educators. Among partnering groups are Communities in Schools, a dropout prevention program; and Profound Gentlemen, a local nonprofit that recruits and supports male educators of color to serve as positive role models in schools.
Carter hopes Hip-Hop University participants come away with one essential lesson. "Ultimately, it's about making better decisions," he says. "… As opposed to being a leader on the street, you can be a leader in the classroom, in the school and community."
To find out more about upcoming events or how to get involved, visit hiphopuniversity.net and sign up for the organization's monthly newsletter.
---
Liz Rothaus Bertrand loves writing about the intersection of arts, culture and education. But her two sons can definitely out-breakdance her.