Laugh and Play this Labor Day Weekend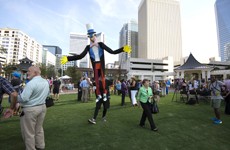 Friday
Bearden Birthday Bash
For the next three days, celebrate with lots of live entertainment, music, and plenty to eat. Enjoy Family-friendly activities throughout the day. Romare Bearden Park, 300 S. Church St.
Matthews Alive!
Get your groove on all the way through Monday with live music, carnival midway and games. Make sure to come out and support your local non-profit organizations. Downtown Matthews.
Once Upon a Time…Exploring the World of Fairy Tales
Let the kids imagination run wild with a fun and whimiscial exhibit of their favorite fairy tales. ImaginOn: The Joe and Joan Martin Center, 300 E. 7th St.
TTB Kidz Consignment Sale
Shop for gently used clothes, toys, and baby equipment all weekend. Metrolina Tradeshow Expo, 7100 Statesville Road.
Saturday
Campfire Roast
Roast marshmallows and hot dogs around the campfire. Today you'll get all your questions answered about the reserve. Reedy Creek Nature Center, 2900 Rocky River Road.
Education Workshop Day
Enjoy hands-on activities that focuses on an aviation topic. Carolinas Aviation Museum, 4672 First Flight Drive.
Family Friendly Comedy Improve Musical Variety Extravaganza featuring the Chuckleheads
Laugh and participate in freestyle comedy and enjoy game show elements. Warehouse Performing Arts Center, 9216-A Westmoreland Road, Cornelius.
NightWatch
Explore the universe with binoculars and small telescopes without leaving your own backyard. Schiele Museum, 1500 E. Garrison Blvd., Gastonia.
Revolutionary War Reenactment
Watch a live rendition of the British and Patriots between the Battles of Charlotte and McIntyre Farm. Historic Latta Plantation, 5225 Sample Road, Huntersville.
USNWC River Jam
Hang out with the family for some all day fun. With live music, whitewater rafting and more the kids won't be bored. USNWC, 5000 Whitewater Center Pkwy.
Sunday
Davidson Concerts on the Green
Have a picnic on the lawn! Bring your blankets and chairs for a full evening of fun. Davidson's Village Green, Main Street and Concord Road, Davidson.
Gnome Homes and Fairy Houses
Create your very own home for a fairy or gnome with natural supplies. Reedy Creek Nature Center, 2900 Rocky River Road.
Labor Day Celebration
Enjoy a trail race, live music and firworks at the end of the night. U.S. National Whitewater Center, 5000 Whitewater Pkwy.
Monday
Happy Labor Day!
1st Annual Charlotte Kosher BBQ Championship
Compete in a watermelon or pickle eating contest, enjoy the kids zone or just eat lots of BBQ. Jewish Community Center, 5007 Providence Road.
Alien Worlds and Androids
Join scientists in their search for alien life within and beyond our solar system, discover strange alien like creatures found here on Earth, and learn about the technologies used to explore remote solar systems and extreme environments found on Earth. Discovery Place, 301 N. Tryon St.
Looking for more ThingstoDothis weekend?
If you're staying in and grilling outside this weekend, play these 4 Backyard Games You've Never Heard Of.